I know we're already into the New Year, and Christmas posts are past… But I couldn't share this one in December for fear of ruining the surprise for the receiver… So here it is..
The 12 Days of Christmas!
Mine and Kayli's little Granny, who we dedicate this lovely little blog to (read more
here
), had the tradition of doing the 12 Days of Christmas for someone every year. When we were little she would do it for us, but as we got older and started figuring out it was always Granny that was our Christmas Spirit… We began helping her give to others.
Granny and Kassi
Granny passed away this last August… And we knew we wanted to keep the tradition alive in her honor! This year we chose my soon to be sister-in-law as our person! She is a sweetheart, with two little ones that run her ragged… So of course, we decided she was the one deserving a Christmas Surprise!
How to do the 12 Days of Christmas, Granny Nell Style!
Choose a family member, friend, neighbor, or someone less fortunate that deserves a little Christmas pick me up!

Purchase 12 gifts, of small value, so that each day of the 12 days they will receive a nice little surprise.

Enlist the help of others if need be to get the gifts to your person without them knowing where they're coming from.

Include a little note on the first day, explaining the 12 days

Start 12 days out from either Christmas Eve or Christmas Day.

Enjoy sneaking a gift every day until Christmas Eve or Day to your chosen person!

Choose to share your identity with your person, or keep the secret as their anonymous Christmas Spirit. Your choice.
Again, we chose Brianne, my future sis-in-law. We purchased 12 little gifts. Our gifts included:
Sugar Cookie Mix and Sprinkles

Christmas Cookie Cutters

A DVD

Upside Down Tomato Plant

Rooster Table Runner

Rooster oven mitt (her kitchen is roosters)

Nail kit and one nail polish

Christmas Drink Coasters

Gingerbread dip tray

Small kitchen towel

Family picture frame

Red sweater jacket
Each of our gifts was around $5-6.
We wrapped the gifts up, using Christmas paper just for her, in case she came over and saw the Christmas paper under our tree…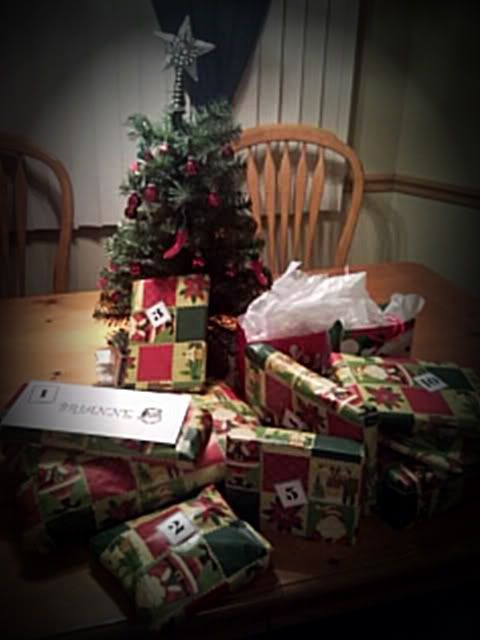 Trust me… my brother used that once to discover it was Granny because she used the same paper under her tree that our Christmas Spirit was using… heehee.
The next year, his gifts were wrapped in newspaper… She showed him! 🙂
I typed up a little poem for Brianne's letter and even typed her name on the envelope, so she wouldn't recognize the handwriting.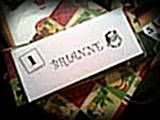 The poem went something like…
Happy Holidays Brianne!
There's 12 days left 'til Christmas!
The 12 days of Christmas you see!
Every day from now 'til Christmas Eve you'll get a little gift
You're a great mama and a sweet lady
So you deserve a little lift!
On the first day of Christmas your Christmas Spirits hope you enjoy
A little present to share with your little girl and boy
Guess and guess until you're sure
But we won't tell our secret 'til the 24th!
We enlisted my future brother-in-law, Brianne's hubs, to help us deliver her gifts! And he did an awesome

job! He told her that her Spirits were leaving a gift in his pickup at work everyday…
She had NO idea! 🙂
I printed out the numbers 1-12 and cut and then taped them onto each present so that he would know which one to take which day.
It was so fun Christmas Eve getting to tell her that it had been us! 🙂
So, just an idea to share the Christmas Spirit next year! Feel free to borrow our little poem and edit it to your liking! If you do, hope you'll let us know! We love hearing 12 days stories!
Happy Holidays everyone! From Truly Lovely!