My fiance purchased a dehydrator awhile back to use to make jerky…
I've been patiently waiting for his jerky kick to pass so I could take over. 😉
It did finally, so I purchased two bunches of fresh bananas and decided to try my hand at dehydrated banana chips!
I LOVE banana chips from the grocery store…
And the dehydrator comes with an instruction booklet that includes several different kinds of not only jerky, but fruits, etc. So how hard could it be!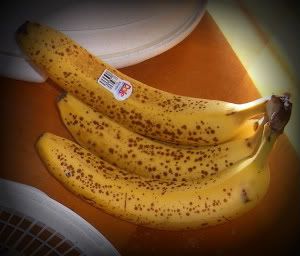 I let the bananas ripen a little out on the counter a day or so, because they were REALLY green when I bought them. Here you can see… I might've let them ripen a little too much because they started getting a little spotty…
Then I peeled and sliced each banana into several thin slices.
I spaced the slices throughout the drying racks of the dehydrator.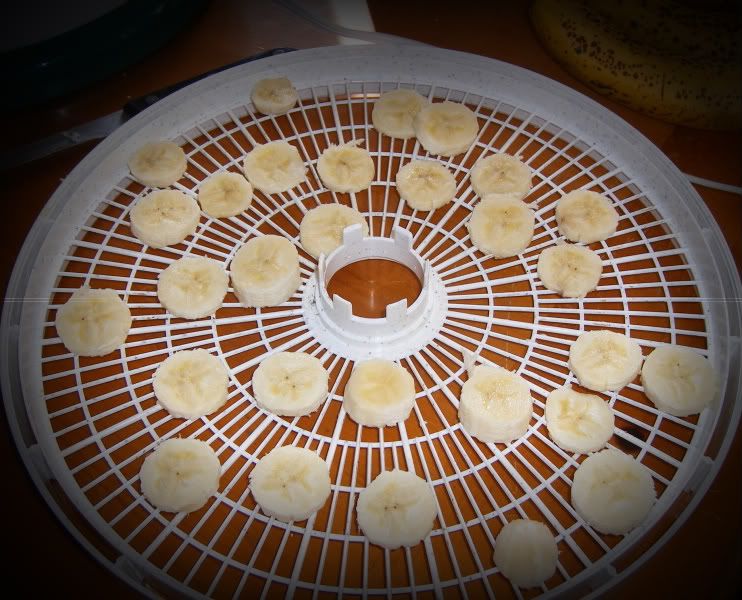 I sprinkled a little bit of cinnamon sugar on a few of the layers, just to see if there'd be much of a difference. I left a few layers plain.
(Mr. M took this picture for me! What a team player he is! 😉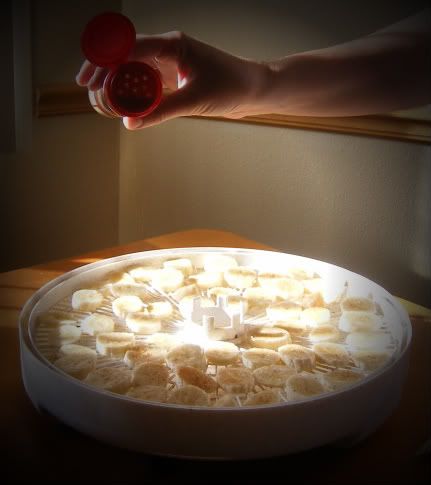 I stacked the layers, turned the dehydrator to the Fruits setting, and let it go!
The instruction booklet that came with the dehydrator said,
That's a huge spread there, so I just decided to check them every few hours. After 4 hours they were nowhere done!
They were still quite mushy in fact! SO I left them longer.
Actually, after the FULL 12 hours was up… And it was bedtime…
I finally turned them off.
I let the banana chips set in the dehydrator overnight, and then put them in plastic baggies the next morning.
They were still a little bit softer than I would've liked… Unlike the crunchy banana chips from the grocery store… But I'm pretty sure that level of crunch requires some kind of chemical that as an amateur dehydrator, I have NO access to… and it probably isn't that good for you…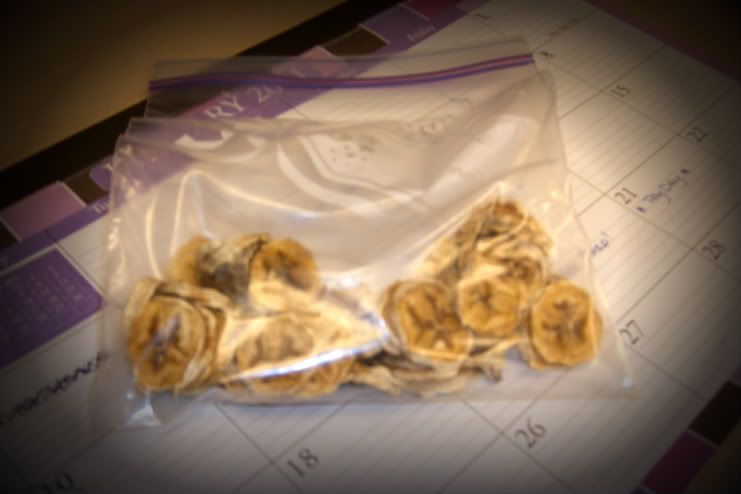 So, I feel like my banana chips turned out pretty well!
And now I have a healthy snack to take to the office every day!
And I actually brought them to the office! That's my desk calendar there that they're sitting on! 🙂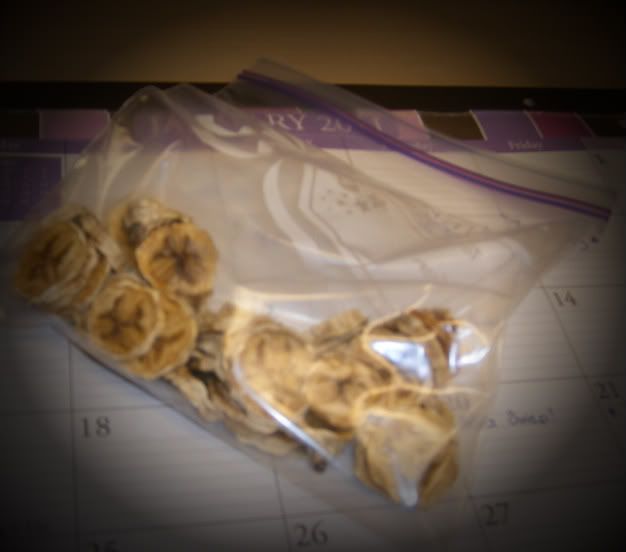 Anyone have any tips on getting a crunchier banana chip? Or any recipes on spicing them up a little?? The ones I added cinnamon sugar to, really tasted about the same as the ones I left plain…
So something stronger will be needed for next time.