So you know there are two Laney Sisters… Kassi and Kayli!
But there are also two Laney Brothers… Yep! Brent and Toby.
So today, just for fun, we would like to introduce you to BRENT!
He's a SUPER fun guy!!! And a REAL cowboy!
Brent, personal photo taken by Kassi
I gotta say when I was a little tyke, he was my favorite friend. I never really had a BESTIE when I was little since we lived in a small town. There weren't a whole lot of little girls around that were my age to befriend.
So… I played with my little brother, Brent. And we had LOTS of fun.
We built forts out of blankets in the living room…
They never looked this good though…
We made elaborate plans for the day we were going to run away from home… Not that we wanted to run AWAY from home… We just wanted to go on an adventure. Like really elaborate… Once we stock piled mom's watermelon seeds so that we could grow watermelon to eat on our big adventure… haha.
We rode horses at our Papa's.
Watched Nickelodeon at our Granny's.
And each got to pick a movie during the days home with Mom.
I always picked Heidi… Which Brent HATED…
But I got tired of watching Davy Crockett everyday too!! 😉



Now we're all grown up!
Brent is going to be one of my fiance's groomsmen in our wedding.
But he is still a SUPER fun brother!!
And we still hang out a lot when we can get together!
Hope you enjoyed meeting another of the Laney bunch! 🙂
Maybe someday soon we'll introduce you to Toby…
Do you have any fun memories with your siblings from when you were younger?? We would love to hear about them!
If you write a blog post about it and share the link we PROMISE to go check it out!!!
P.S. Our Fancy This Fridays Linky is happening RIGHT now… Just scroll down to link up your lovelies from this week!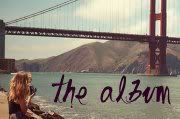 P.P.S. I linked up that cool picture of Brent with his rope over at The Album on For the Love of Blogs!! 🙂
You can check that out here.