Hello bloggie buddies!! Happy Monday!!
It's getting harder and harder to choose features each week, when all of the projects are so fun and creative!!!
However, I finally got it narrowed down to the three for this week's Features!
You can easily put a picture of the item you want to save for inside the box, and watch the money pile up!
Since I'm in home purchasing mode, any cute little home decoration easily catches my eye… Like this lovely Mod Podge tray makeover from Tanya of Make the Best of What's Around. So bright and cheery!!! Love the blue paint!
And finally… My two girls would love them a new doggie bed. But doggie beds are CRAZY expensive!!! In comes Deanna of Shady Tree Diary's homemade dog beds! A huge money saver, but looks like her dogs love them!
Thanks to all you linking lovelies!!! I really enjoy going through (and commenting on) each and every project that is linked up!!
You all amaze me more and more every single week!
For those that were featured, we would love for you to have this button (our new feature button) to share with your readers, so they can come here to see where your project was featured! It links right back to this post, FYI.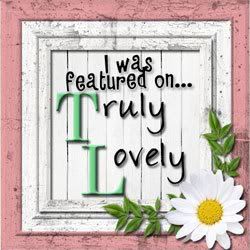 Thanks again for linking lovelies!!
Can't wait to see what you share this week!!!
P.S. I have a FUN announcement coming up here shortly…
*HINT* I'm guest posting at an AMAZING site today!!! 🙂