For the 10th Edition of Fancy This Features…
Check out these sweet projects from Fridays Fancy This Link Up Party!!
Kayli and I LOVE Pride and Prejudice…
So how could we resist this inspired by Mr. Darcy plate wall hanging?!?
Since I made those tile coasters this last week, I have been looking for fun Mod Podge ideas…
It doesn't get any funner than zebra print and bangle bracelets!!!
Crysta at Homemaker in Heels shared this sweet bangle made with zebra ribbon and Mod Podge!!
It's so ruffly and girly, we can't help but LOVE it! 🙂
Thanks to all you lovelies for linking with us once again! We always love seeing your fancied ideas!
For those that were featured we hope you'll grab a featured button to take back to your blogs! It links directly to this post, so you readers will be directed back here to see what you were featured for!!!
GUESS WHAT!?!? Kayli got her very first Feature!!! The lovely Rachael at Lovely Crafty Home Featured Kayli's Flower Purse!!
Check out by clicking the button…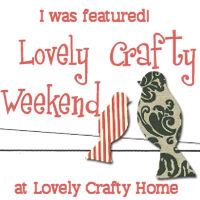 Thanks again lovelies!! Excited for this Friday's link ups!! Valentines Day is getting closer and closer… 😉