I recently took on a fun project!
I copied a status from someone else on Facebook to my own status… Basically it said,
"First 5 people to comment on this status get a handmade gift from me."
I ended up allowing for two more, so seven handmade gifts in total.
The first two are finished, I decided to make them the same thing…
Cheap, easy, but super fun and way cute!! Tile Coasters!
I've been seeing these all over blogland. I initially saw them here at
Mostly Food and Crafts
where Danielle made some sweet Holiday coasters…
So I decided to take this idea and make my own.
The materials needed are:
4 square tiles (I bought mine at Home Depot for $0.14 each)

Scrapbook paper (about half a sheet for each set of coasters)

I used my Silhouette SD for the cutting, but you could use any stencil or hand cut the designs yourself…
I think in total the materials only cost me a couple of dollars
for each of the 2 sets of coasters that I made.
I made the first set of coasters for my friend, Katie.
I LOVE personalized things and TYPOGRAPHY, so I chose to use her name for one of the coasters.
And I used a cup with a straw from the free designs that came with my Silhouette.
I followed the same steps for the second set of coasters for my friend, Tess, except I used her name and the free wine glass that came with my Silhouette.
This is the screen shot of Katie's cutouts on my Silhouette screen.
I simply measured the tiles, decided the size I wanted for the squares, inserted the cutouts and then printed/cut the page onto the scrapbook paper.
Next I used the foam brush to brush a layer of Modge Podge onto the two tiles, then took my cutouts and placed them in the center. I let those dry for about 15 minutes.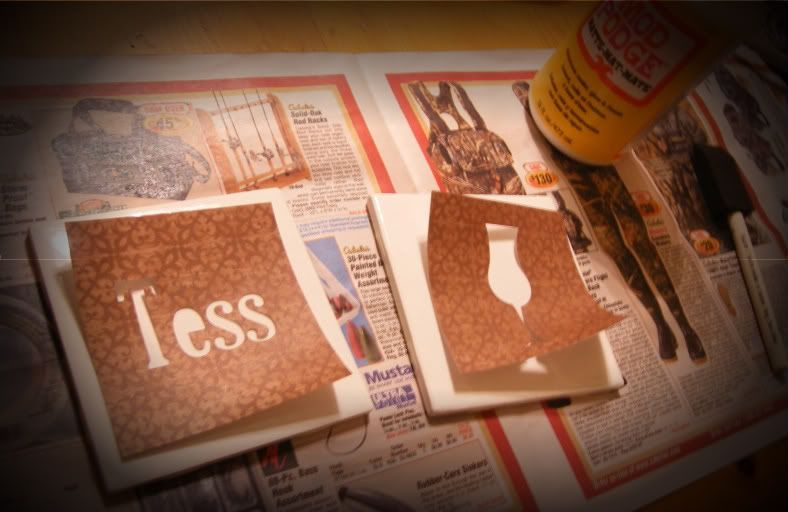 I brushed two layers of Modge Podge over the top of the cutouts on the tiles and allowed those to dry for 15 minutes each in between coats.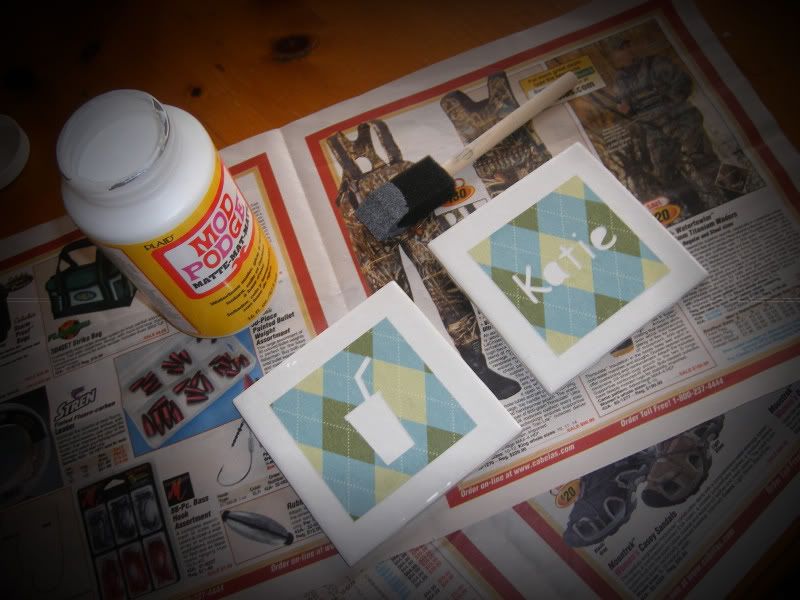 Once the second layer was dry, I sprayed two layers of the Modge Podge Sealer over the cutouts and tiles. Those dried.
For my last step, I cut out strips of matching felt and hot glued those to the bottoms of two of the tiles. The bottoms of the tiles are rough, so they felt serves as a protective barrier between them and the table surface they get placed on.
For the bottoms of Tess's coasters I cut out a full square of white felt.
Here's Katie's coasters!! 🙂
What do you think??
I think they turned out so lovely!
Great for my first attempt! haha!
And here's Tess's coasters!!!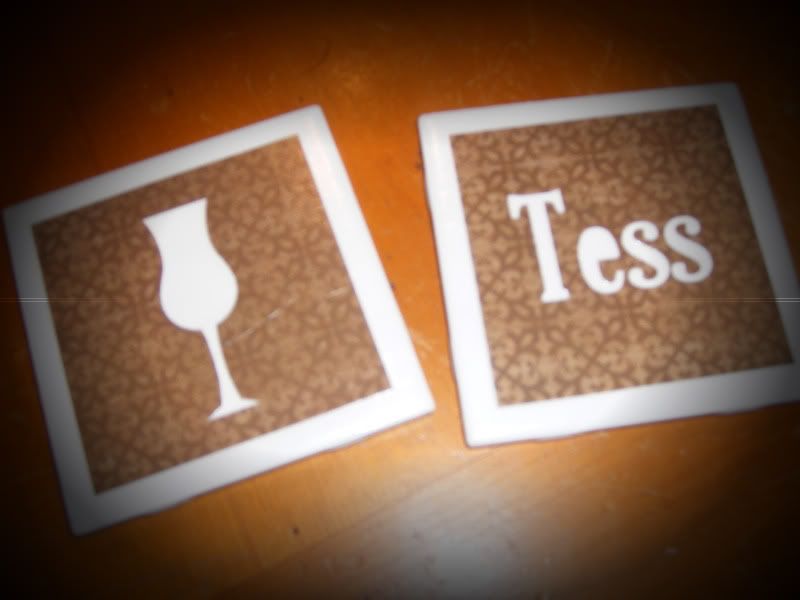 Sorry for the glare on that one…
And here in use…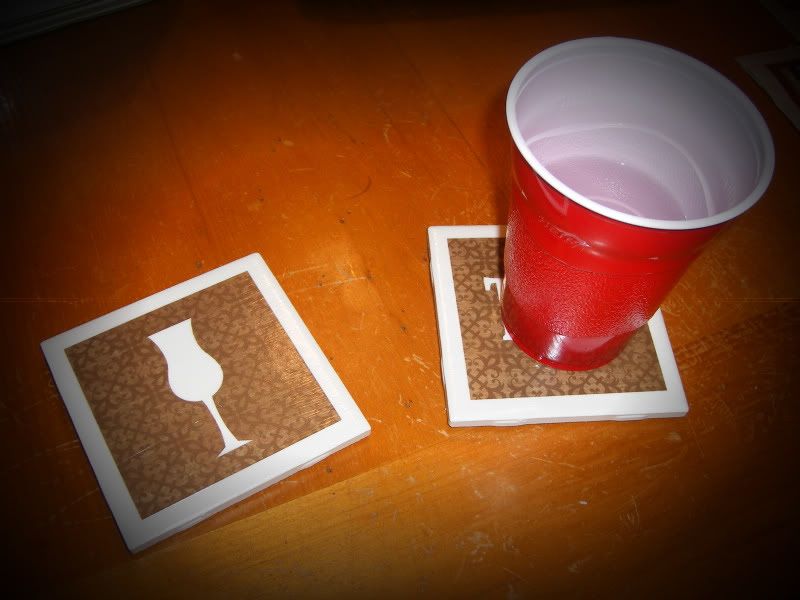 Now they will each have a set of their very own, personalized coasters!
I wrapped each set up in ribbon and tissue paper….