We have an EXCITING announcement today!!
We are almost to

200 followers

here at Truly Lovely!!!
YAY!!!
To celebrate, as soon as we reach 200+ we will be hosting…
A WEEK of TRULY LOVELY GIVEAWAYS!!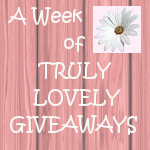 We have some awesome prizes lined up from some of our sponsors
and Bloggie Besties!!
It's looking like at least one giveaway EVERYDAY for a WHOLE WEEK!!
Because we are SO EXCITED that 200+ people stopped by our little corner of blogland and cared enough to push that little follow button!
You guys are AWESOME!!
And because you're awesome, you deserve some fun stuff!!!
Stay tuned to see who will be offering up some of that fun stuff that you will

have the chance to win!!!! 🙂
And if you're not already a Truly Lovely follower, we would love to have you!!
It'll be required that you are a follower to enter the giveaways…
So what better time to join than now!!
Here's our new GIVEAWAY button if you could please share it on your blogs to spread the word!! 🙂