Another new week! Already!!! I had a GREAT weekend!
My future brother-in-law's family came down and spent the weekend with us!!!
We had a really fun time!!
Do anything fun or exciting??
We had 32 link ups this week at Fancy This Fridays!
The most viewed link of the week, hands down….
This ADORABLE Kite Wreath from Carlee at Lady Bird Lane!!!
I love her spin on the Spring wreath!!
Definitely a fun new idea!!! 🙂
Check out this LOVELY chair makeover from Britt at Ben & Britt Stanley!
I have some chairs I'm thinking of making over…
And I love the way she did hers!!!
Finally check out these adorable Carrot Cutlery sets that Hollie of the Seven Year Cottage put together!!! Easter is only a few weeks away!
Time to start gathering ideas!! And this is a fun one!
Thanks for linking all you lovelies!!
For those that were featured today, here's a button for your blog to show you're readers that you were featured on Truly Lovely!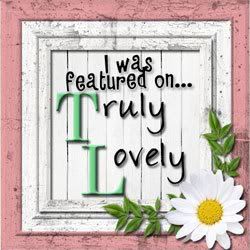 I'm excited for the posts coming up this week!
Just FYI… I have it on good authority that Miss Kayli might be making an appearance… haha!!
Have a lovely week sweet friends!
And please go pay our features a visit! 🙂
P.S. We're getting SO close to 200 followers!!!
Once we get there, we're planning an
AWESOME week long giveaway!!
I'm still looking for friends to contribute to the giveaway, so if you're interested please shoot me an email for the details!!!