There were some SWEET linkups this week!!!
AND…
IT WAS OUR LARGEST LINKUP EVER!!!!
We had 44 LOVELY projects linked up for our 15th Fancy This Party!!
Thanks to all you lovelies that link up time after time!
I know we say this time and again, but we really mean it!!!
We wouldn't be able to party without you!!!
So for this week's features… A record breaking link up…
How about a record breaking number of features??
Some lovely accessories???
Yes, I do believe so… 🙂
The super talented Megan of Brassy Apple shared her idea for an Accessories Swap Party! Your old items becomes somebody else's new…
And you get something "new" too! All without forking out any dough!! Besides… what's a better excuse to party with your girlfriends and get some fun stuff?!?
Pretty sure one of these parties is in my future…
With some of these super cute
"bracelet" invites that Megan made!!!
You cannot beat a CUTE headband!!! And we had TWO this week!!!
First, check out this darling pearl beaded headband from the lovely Lindsay of Lee La La!!! I won a headband in a giveaway the other day… So now I am obsessed… and looking for more cute headband ideas! 🙂 And this is it!!!
The other was this adorable fabric flower headband from Steph at Southern Fairy Designs… Love the fabric she used! You could wear it with almost anything!!!
Next we have the ultimate ACCESSORIES gift set from Amy of Frilly Lilly!!
A CUTE stenciled tote, a lovely gathered clutch, and a sweet camera/ipod case! Everything you'd need to carry your essentials in style!!
And finally… Can't leave out the kiddos… They need accessories too!!!
The perfect gift for a new little cowboy or cowgirl…
Thanks to all you lovely linking ladies!!!
These parties are getting more and more fun the further we go along!!!
For those that were featured, here's a featured button to share on your own blogs! It links right back to THIS post, so you're readers can find you! 🙂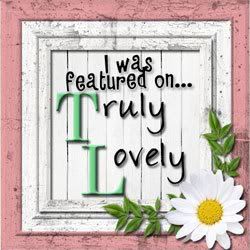 Hope you enjoy you're St. Patty's Day week!
And don't forget to wear green on Thursday!!!