This is our

100th

post!!! YAY!!!
AND Fancy This Fridays had yet ANOTHER record breaking number of links!!!
53

link ups this week!!! WHOOT WHOOT!!
THANK YOU ALL SO MUCH for participating with us!!
To celebrate the first official day of Spring (Yesterday!), we'd love to share some

JUST PLAIN FUN

Features with you today!!
She used a Sweet Heart theme, but this could EASILY be customized to any holiday, birthday or just fun SPRING party!!
She used some fun sparkly material, a little camo material and even some fuzzy material to make them more… well FUN!!!
While you're there, check out her COOL cooler holder!!! 🙂
Definitley added this one to my list of recipes to try!! 🙂
So cute! And it looks like he had the BEST time!! 🙂
Hope you get some JUST PLAIN FUN ideas from these features!! 🙂
Thanks again to all who linked up this last week!!
Here's a featured button to share on your blog if you were featured here today!!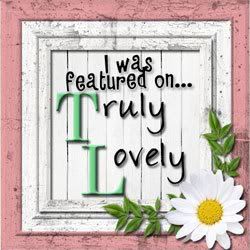 And HAPPY FIRST DAY OF SPRING!!!
Have some fun this week, huh!?!? 🙂
P.S. We had our first ever Sponsor Spotlight on Saturday in case you missed it. Hope you'll pay a visit to some LOVELIES that make Truly Lovely possible!