So, I have two things before we get to the Fancy This Fridays party…
1. We are the featured blog today over at
Friendly Fridays on Making the World Cuter!!! 🙂
Thanks to the lovely Tiff for the feature today!
Hope you'll pop over and say hello!
2. I'd been putting it off…
Only for the simple reason that I already manage my personal Facebook page, my Scentsy facebook page, and the facebook page for my workplace…
But I FINALLY did it.
Truly Lovely has crossed over to the dark side…
Kidding… We just got a Facebook page. That's all.
We hope you'll pop over there and Like us..
Everyone wants to be liked… 🙂
Thanks friends!!
In the meantime, it's time for Fancy This Fridays Edition #14!!
We love to see what you link up every week!!
As always don't forget to pop by on Monday to see the features from this week's link up! Oh… and one more thing, if you host a weekly linky party, if you'll link it up on our Come Party With Us page, we promise to stop by! 🙂


Fancy This Friday Rules:
1) Must be your own project
2) Must be linked to that project's specific post within your blog,
3) Grab our party button so others can party too!
4) Share some linky love with the other participants, by visiting and commenting on their projects as well! We ALL love comments!!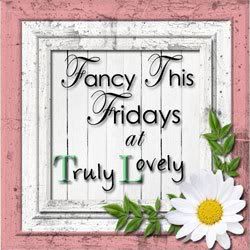 Thanks for linking lovelies!!! 🙂