Remember this post where I shared the Rustic Shadow Boxes that I made for my mister? Well… You caught a glimpse of it there.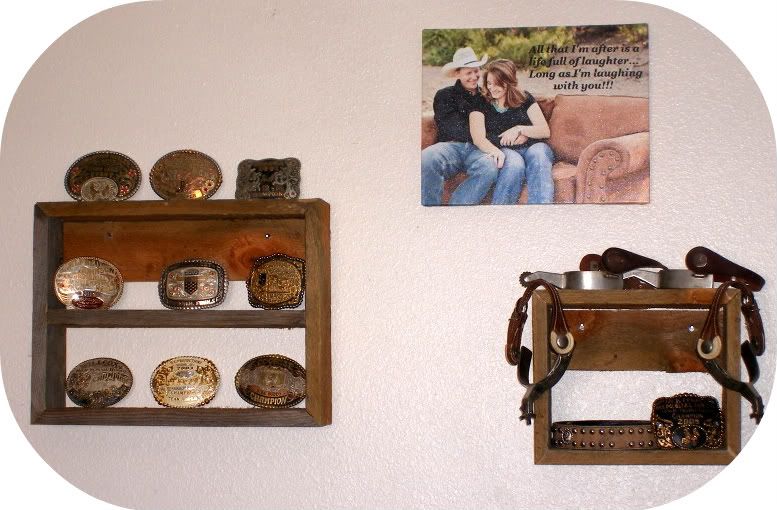 A couple months back, I took full advantage of the FREE canvas deal from Canvas People, and ordered myself a canvas.
The hardest part of the whole process was picking which picture to use.
I finally decided on this engagement picture of myself and Mr. M.
It's one of my favorites because he's smiling so perfectly. 🙂
I simply opened up the file in Paint, added the words from one of my favorite songs… That I thought fit the picture and I got this…
The wording reads, "All that I'm after is a life full of laugher… Long as I'm laughing with you!!!" Appropriate for this picture, don't you think? 🙂
Then I uploaded it on the Canvas People website.
They are awesome… They warn you if they think the photo isn't high enough quality to look good on canvas.
They also show you where the photo will wrap around the edges of the canvas, so if you have words (like me) you can be sure they won't be cut off!!
It only took a couple of weeks and it came in the mail.
I was thrilled to get to hang it on my wall… It comes with the materials needed to hang it securely, but I just hung it on a thumbtack for now.
In our soon to be new house there's a mantel though…
Considering that might become its new home in the future.
Until then, I'll take it and use it as a decoration on the guest book table for our wedding!
It was so cool how they took a photo of my choosing and turned it into real art to share in my home! 🙂
*Canvas People in NO way compensated me for this post, nor did they even ask me to post on this at all!!! Although that would be super cool…
I payed for the shipping of my canvas, per the coupon listed on their site at the time.
This is just my own experience and opinion of a company that I hope will be useful to you all, my readers!!*
Happy Shopping Friends!!