Last Monday, I was so thrilled to be the Guest Poster of the day over at
The CSI Project!!!
You can check out my post there at this LINK, if you missed it…
Otherwise, I wanted to share that post with you lovelies, so here it is!!
Minus the introduction part…
You have already heard and seen that business…
Rustic Wood Shadow Box Tutorial
With the CSI Project theme for this week, Moulding for Your Home, I was nervous at first about participating… I've never done anything like this before and it really required me to step it up and out of my comfort zone!
When deciding what to do for my project, I needed two things…
1. Home moulding that wouldn't be permanent
(We are in the process of looking for and purchasing our own home)
and
2. A Valentine present for my fiance!
BAM! Two birds, one stone…
I rounded up my ever willing Dad to complete this one… power tools and exact measurements being involved and all…
So thanks to Dad for this!
Obviously he wasn't SO willing in the picture taking department… 😉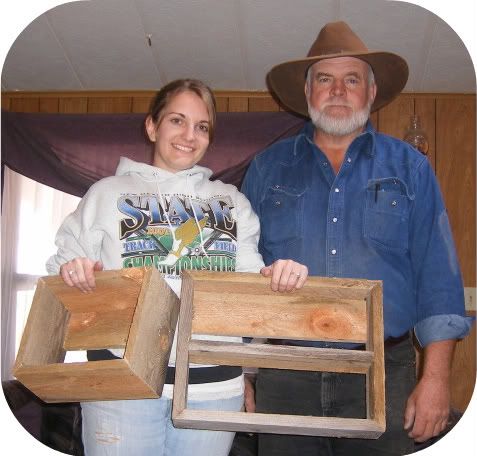 So first things first… We dug around my dad's old lumber pile and found a perfectly "rustic" (i.e. weather beaten and worn) piece of lumber.
We decided we could easily get two shadow boxes from the one board…
You can purchase a similar or comepletely different board, depending on your design taste, at Home Depot or a local lumber yard.
We used a handheld circular saw (you could use a jigsaw or miter saw) to cut the piece of lumber down into the workable wood pieces that would make up each shadow box.
Start by measuring the widths and lengths that you want, marking each cut with a piece of chalk, or a pencil.
TIP: We maintained a straight edge when cutting by using vise grips to hold a manufactured straight edge of another board onto our original board.
We decided the shadow box measurements based on the items I was thinking my fiance would display inside them.
They ended up being 12″ x 18″ x 4″ for the larger box and 8″ x 8″ x 6″ for the smaller box.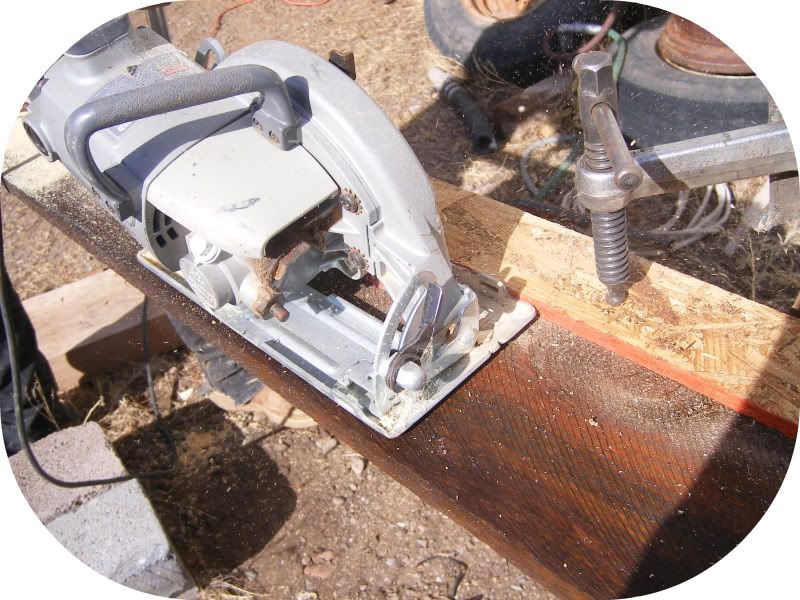 To make the angle cuts on each end of your four pieces (per shadow box) adjust the saw to the desired angle, 45 degrees, measuring carefully to ensure each angle will match up.
Once your pieces and angles are cut check to make sure that the corners are square. If not, you can easily make adjustments by trimming the corners.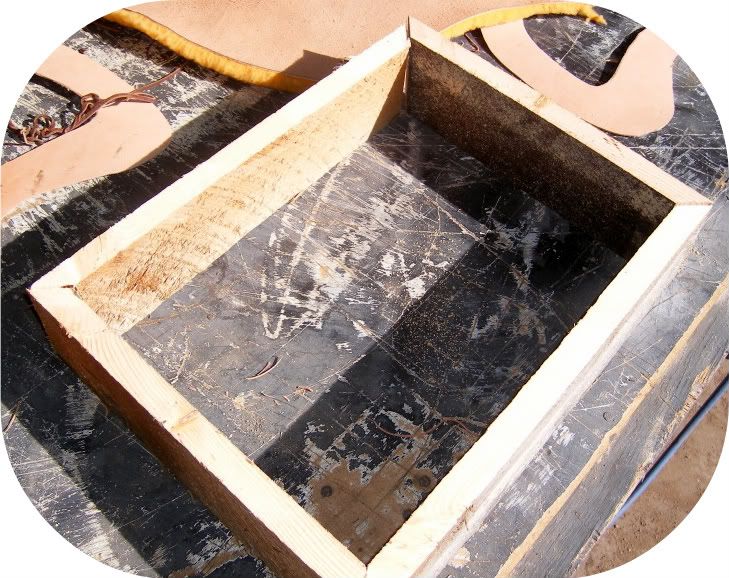 (You're loving that sweet work surface there, aren't you?! 🙂

After your box is laid out, you can start nailing the pieces together.
Wood glue, screws, etc could be used in place of nails for whatever look you are trying to achieve.


We used 2″ nails to maintain the "rustic-ness".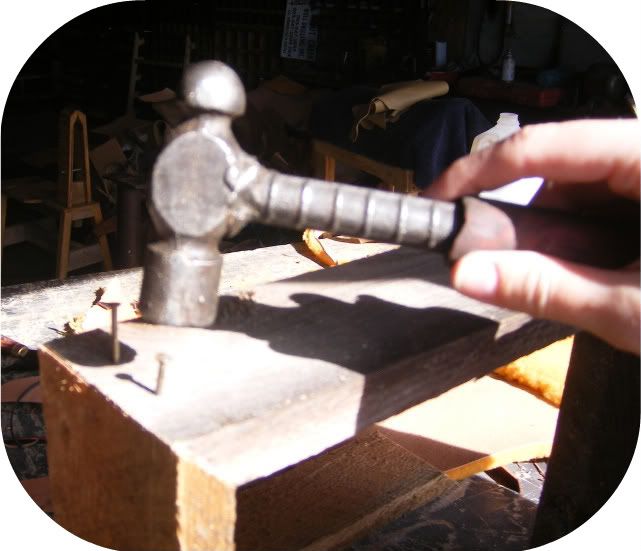 A small board was added inside the boxes to make them more sturdy and to house the holes that they would hang from…
Here you can see the extra board inside one of the shadow boxes.
These too were simply nailed to the main box.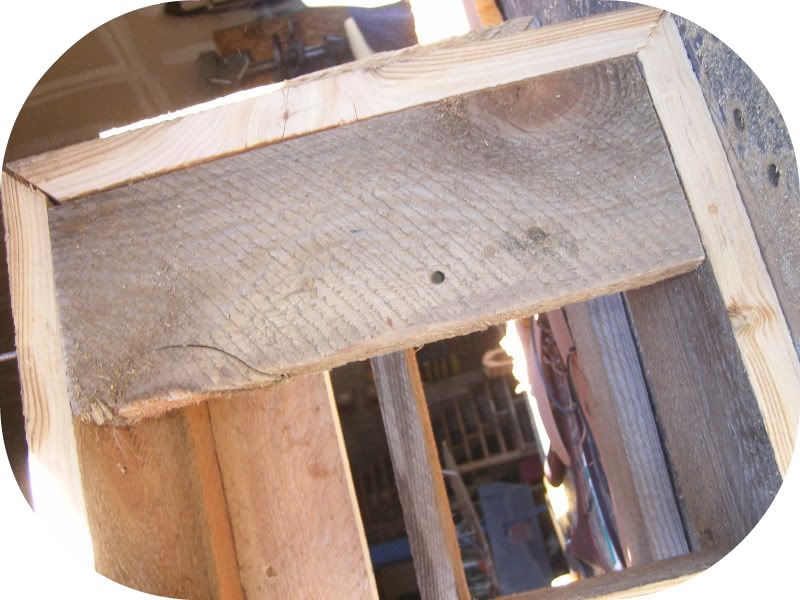 An electric drill was used to drill two holes into the backing boards as shown above as a means of hanging the shadow boxes on the wall.
You can see we added a shelf to divide the middle of the large shadow box, again to house the items I had in mind to display.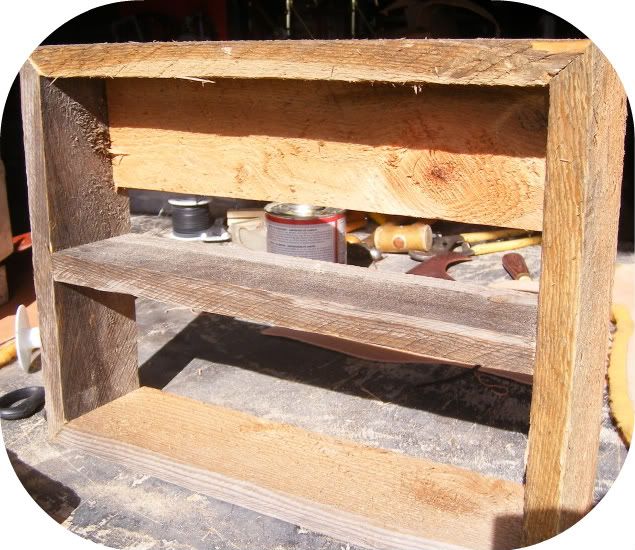 The second shadow box was made using the same instructions as above, just using different measurements, and without the dividing middle shelf.
When making these shadow boxes, I had a specific use in mind of course.
My fiance has a unique way of displaying his special items…
By unique I mean thumb tacking them to the wall, sticking them in window sills, or any random place he thinks they might fit…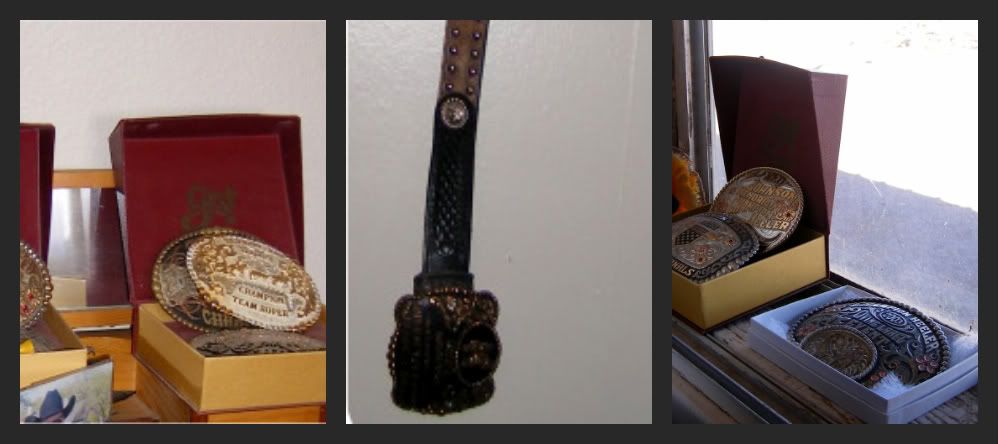 Yes… That is a belt thumb tacked to the wall… Men! Sheez!
What these special items needed was a woman's touch…
In the form of some rustic, manly shadow boxes!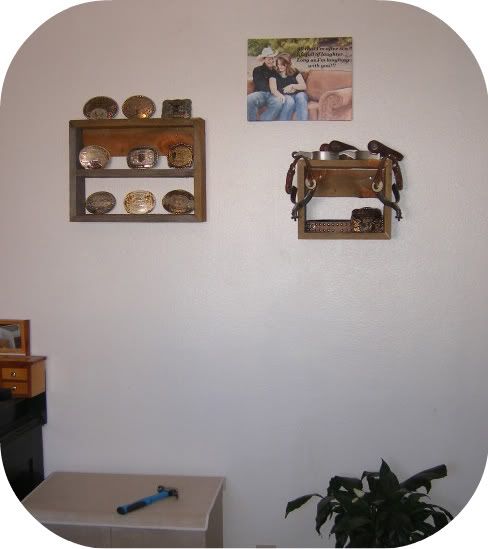 Now his trophy buckles and keepsakes are displayed in one nice place, befitting a man's decor taste! 🙂
I hope you enjoyed my Shadow Box Tutorial!!!
I would like to thank the sweet ladies of the CSI Project for giving me the amazing opportunity to share this tutorial with their readers.
So thank you ladies!!!
P.S. I'm linking here!!! 😉