Have you entered today's giveway yet in the
WEEK of TRULY LOVELY GIVEAWAYS??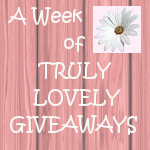 If not you should… Just visit the Home page and then scroll down!! 🙂
There's some fabulous items already up for grabs and more to come!!!
We'd like to introduce you today to Lauren of the Elephant's Trunk!
Not

only is she this week's Bloggie Bestie, but she is also THE sponsor of TODAY'S GIVEAWAY!!!
I'm over at her place today sharing a guest post there…
so after you leave her some bloggie love here, pop over for a visit, huh?!? 🙂
Until then… Here's Lauren!!!
Hello Everyone! I am excited to be here today!
My name is Lauren and I blog over at
The Elephant's Trunk
.
My blog is a little bit of home decor, a little DIY, a little bit of Etsy finds, some recipes and more.
I'm not only a blogger but I also have an
Etsy store
where I sell handmade wine accessories.
Here are a few of my favorite projects that I have blogged about:
Thank you so much to Kassi for having me here today!
You are welcome to find me at the following places:
THANKS SO MUCH TO LAUREN for BLOG SWAPPING with me today!!!
And for sponsoring our week of giveaways!
Please go visit her links friends, this girl is CRAZY AWESOME!!! 🙂