It's getting closer to the weekend friends!!!
And that means it's time to meet a NEW Bloggie Bestie!!!
This week we would LOVE to introduce you to the FABULOUS
Lauren of Young Nester!!
She is a doll, creates some awesome thriftyness
and is new bloggie buddy of ours!!
So please check out her fun, SUPER CUTE magnet tutorial and don't forget to leave some comment love!!!
Here's Lauren…
I know you all are probably like, "where is KASSI??" Well, we've hijacked each other's blogs today to mess with our amazing readers. 😉 Kassi is keeping my blog seat warm over at
Young Nester
today so go check her out!
She's getting married in TWO months and is making all kinds of goodies!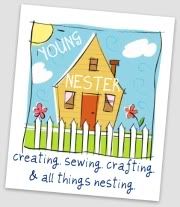 The year 2011 has been insane for me (the expression "when it rains, it pours" might as well be tattooed on my forehead) and Kassi has been so amazingly patient with me and my woes! I love great bloggin' friends. I have always been obsessed with crafting and decided to share what little input I could on the craft blog community early this year by starting my own blog. I'm all about not spending money and created Ten Buck Tuesday (a link party every Tuesday) to help inspire everyone to keep their crafts and recipes under $10 with me!
I just finished up my new magnets and wanted to share with you all FIRST!
Note: taking pictures of clear glass beads with an old camera is very difficult.
So, here's what you'll need:
Glass floral beads: (I got mine at Michael's for $1.99)
Pictures (I used old magazines because I'm a hoarder and can find at least one in every room): free (or you can pick up old used magazines for 50 cents at a Half Price Books Store)
Glue: (I used Aleene's glass & bead bond – just make sure it dries clear; Michael's $3.99)
Cardstock paper for backing: free (use any strong paper)
First I flipped through my old magazines and reread articles I had forgotten about and cut out a bunch of pictures I liked.
I then did a rough measurement of how big I needed the circles to be and cut them to size. I then cut out a piece of cardstock (yellow was the closest to my hand so I went with it…) and glued it to the back of the picture to make it sturdier and so the glue wouldn't seep through and ruin all my hard work (cutting circles is time consuming). 🙂
I used a tooth pick to spread a small amount of glue on top of the picture and pressed the bead down onto the picture. I held tight for a couple of seconds and then glued a small strip of magnet to the back and WALAH! Done!
Recognize that title? Cosmo made it after meeting Kassi 😉
(This is Kassi interrupting… AW! YOU JUST MADE MY DAY LAUREN!!! AND I LOVE COSMO FYI!!!)
Make sure you pick marbles that aren't incredibly blemished (like mine) so they turn out super clear and awesome.
And that's it! Super simple! You could use small family photos or logos of your favorite foods or even words that say "Don't eat that" and put them on your fridge. At least I know I need to do that!
Thank you for letting me entertain you all for a day!
T
he amazing Kassi will be back tomorrow, I promise!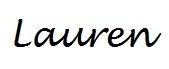 THANKS LAUREN for stopping by Truly Lovely and being the Bloggie Bestie!!