Real quick we wanna say WELCOME to all the new followers of Truly Lovely through our week of Truly Lovely Giveaways!!!
We are so thrilled to have you!!!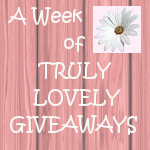 If you haven't yet, be sure to enter each one of the days going on right now!!!
You can find those to the left, over there, listed by day…
If you haven't already be sure to go check out the other link ups…
It's a GREAT way to get crafting, cooking, etc. ideas for this coming week!
Our favorites this time around…
I really want to make myself a fun necklace organizer… Much like this one from Carmie at The Single Nester. Like she said, it's a work of art in itself… Especially with all the beautiful necklaces displayed!
And finally… How CUTE are these Chocolate Bunny Favors from Hollie at The Seven Year Cottage!!! Just in time for Easter of course!!!
And please, go check out Hollie's blog… She has some AWESOME ideas…
(i.e. we've featured her a couple times… 😉
Thanks to all you linking lovelies for linking up at another Edition of Fancy This Fridays!!!
We look forward to this coming week's projects as we're getting closer and closer to the Easter/Passover holiday!
Here's a Featured on Truly Lovely button for you featured ladies! It links right back to this post, so you're readers will know where to find you!