Hey Lovelies!!! Time to link up your FANCY projects from this week!!!
But after you link up, don't forget to enter the giveaways going on right now in our:
A WEEK of Truly Lovely Giveaways Celebration!!!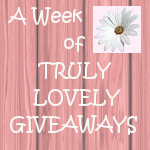 Go here to enter Day 1 from Maggie Louise Designs
AND
Here to enter Day 2 from The Elephant's Trunk
AND
Simply scroll up (here shortly) to enter Day 3 from SomerKnits!!!
Good luck!!! 🙂
Then STAY TUNED!!! We've got FOUR more AMAZING prizes coming up in the next few days!!! 🙂
Fancy This Friday Rules:
1) Must be YOUR OWN project (we've had a few sharing other people's stuff… That's awesome, but we wanna see what YOU did!)
2) Must be linked to that project's specific post within your blog,
3) Grab our party button so others can party too!
4) Share some linky love with the other participants, by visiting and commenting on their projects as well! We ALL love comments!!