We've been at this Fancy This Fridays thing for 20 WHOLE WEEKS!!
So cool that you lovelies continue to link up and our little party continues to grow!! 🙂 We just want you to know HOW much we enjoy checking out what you FANCIED up every week! It's really a highlight in this bloggie life we lead! 🙂
So… Real quick, before we start our 20th party…
Have you entered our Truly Lovely Week of Giveaways?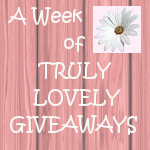 These giveaways are our way of giving back to you lovely readers, followers, commenters, and linkers…
For taking a few minutes of your busy day to stop by Truly Lovely!
But you can't win unless you enter!!
There are still FIVE giveaways left to enter!
We'll be drawing the SomerKnits winner this afternoon!!!
SO HURRY! 😉
Fancy This Friday Rules:
1) Must be YOUR OWN project (we've had a few sharing other people's stuff… That's awesome, but we wanna see what YOU did!)
2) Must be linked to that project's specific post within your blog,
3) Grab our party button so others can party too!
4) Share some linky love with the other participants, by visiting and commenting on their projects as well! We ALL love comments!!