This post brought to you by FRESCHETTA®. All opinions are 100% mine.
My fiance and I love a good pizza at our house!
Especially one that you can take out of the fridge, pop in the oven and have a tasty dinner ready in less than 20 minutes!! That's why I am SO excited to share a review and giveaway of the new 
FRESCHETTA® Simply…Inspired™ pizzas
  with you AMAZING Truly Lovely readers!!
I was given the opportunity by the makers of FRESCHETTA Pizza to try out one of their new eight distinctive flavor varieties and share my experience with you all!
Being that each flavor is unique and interesting, I had trouble deciding which one to try!
I literally stood in front of the freezer at my grocer forever choosing my flavor!
I finally decided on the Limited Edition Chicken Bianco pizza!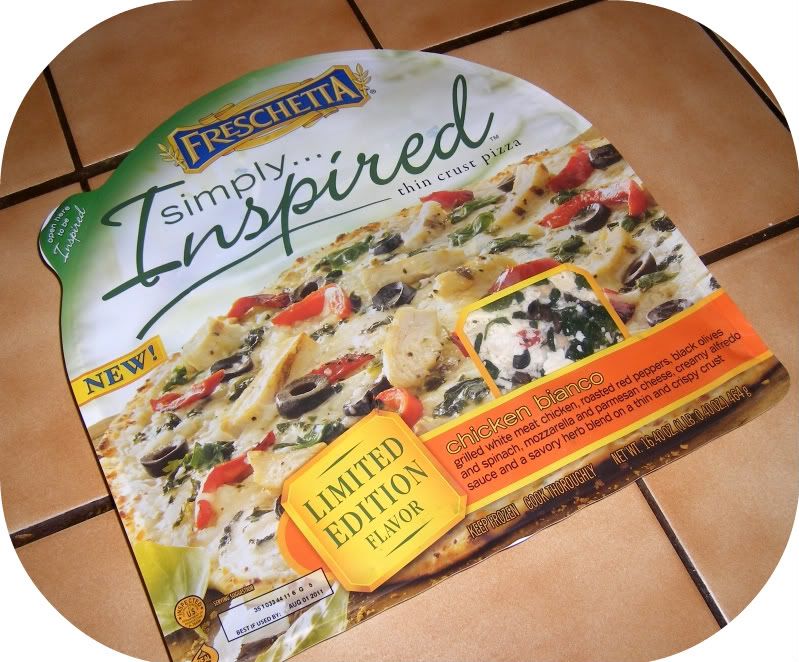 The pizza was SUPER easy to prepare! I was especially impressed with their new FRESH-TASTE SEAL Packaging! It was WAY cooler than your old run of the mill pizza box!! It locks in the vibrant flavors of the pizza all while using 30% less packing material! 
You just peel the top back and your pizza is ready for the oven!
It smelled SO delicious cooking that I had to try a bite before the pizza could even make it to the table!
Crispy pizza crust is my favorite, so I LOVE the Thin & Crispy crust style of the Chicken Bianco!
The pizza itself was SO GOOD!!! My fiance even liked it and he's a SUPER picky eater!
We felt like we were eating a gourmet restaurant pizza!
The toppings were unique, and so tasty! Red peppers, black olives, spinach and the chicken!!
I really enjoyed the signature Alfredo sauce!! My fiance thought it was tasty as well, and he usually doesn't go for anything but tomato sauce on pizza!
Needless to say, we enjoyed trying something new, and were excited that it met our craving for something out of the ordinary!
Now, it's YOUR turn to try out a FRESCHETTA Simply Inspired Pizza!!!
It's GIVEAWAY TIME!!!
 
I'm excited to announce that I have ANOTHER coupon for a FREE Pizza!!!
AND
This fun Bamboo Cutting Board for ONE lucky Truly Lovely reader!!!!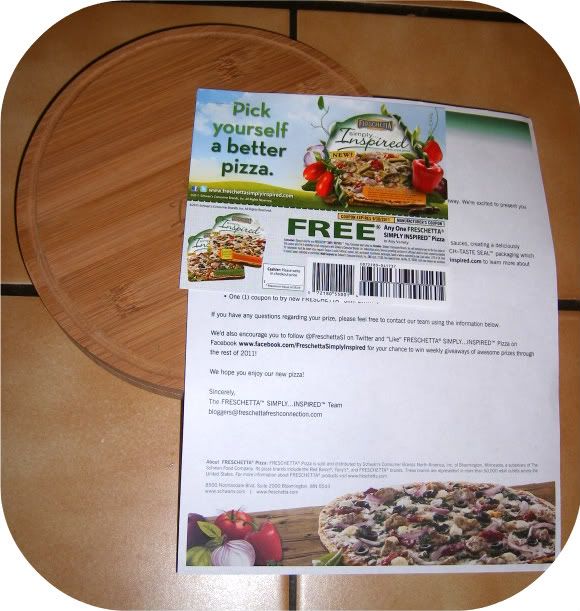 To Enter to Win:
PLEASE leave a comment and link for EVERY entry completed to have that entry count in the giveaway:
Mandatory Entry 1 – Be a public follower or become a follower of Truly Lovely
1 – Visit freschettasimplyinspired.com and let us know which of their 8 flavors you would like to try
1 – Follow @FreschettaSI on twitter
1 – Follow Kassi @ Truly Lovely on twitter at @kassarie
1 – Like Truly Lovely on Facebook
1 – Like FRESCHETTA Simply Inspired on Facebook where you will have access to their SUPER COOL weekly giveaways and coupons!
That's SIX ways you can enter to win!!
This giveaway will be open for ONE WEEK from today!!!
*Thanks to the makers of FRESCHETTA Pizza for giving me the opportunity to review their product!
I was provided with the products to review, however the opinions and thoughts shared in this post are strictly my own!