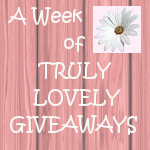 Is coming to an end… It has been SUPER FUN!!!
CONGRATS to those that WON the SWEET items we had up for grabs over the week! To see all those winners, you can click over there…
<—————————————-
(The WINNER links)


But before we announce our last winner of the week…


ONE LAST BIG, HUGE EVEN…
THANKS SO MUCH
To our AMAZING Week of Giveaway Sponsors!!!

And for the final time as 200-ish…
Because here's to hoping we continue to grow our Truly Lovely Blog… heehee!
THANK YOU TO OUR 200+
TRULY LOVELY READERS!!!
AND now…
The WINNER of this FABULOUS Working Woman's Gift Set from
the lovely Lelanie at To Sew With Love
Who is… Lesli from A Little Umbrella who said…
CONGRATS LESLI!!!
Please send me an email with your contact and shipping information!
You have 48 hours to claim your prize, or a new winner will be drawn!
Thank you to everyone who entered and participated in our
WEEK of Truly Lovely Giveaways!!
We had the BEST time!
We hope to be able to bring you more giveaways and FREE stuff from time to time!!
Until then, enjoy the rest of your week!!!