If you have anything to do with the FABULOUS For the Love of Blogs, then you HAVE to have seen Miss Lindsey around???
If not, when you're done here I have two requests…
2. Visit Scenic Glory and check out all the loveliness that is Lindsey and her creations! She does lots of fun stuff you'll wanna see!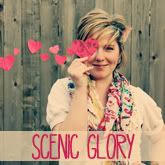 Thank you in advance. haha.
So like I said, Lindsey comes up with some really fun stuff…
One fun thing in particular is the
What Would Journal Project
.
You can click that link to go read all about it…
But in short, she bought some really cute little journals and mailed them to some different people with the premise of,
"What Would you Like to Share Today".
I was lucky enough to be drawn in the first round of the journal send outs!
I would like first to share Lindsey's post of my project.
And a few pictures of my own.
This was my submission on Lindsey's blog.
Click the picture to go see all the other AMAZING submissions!
The quote says, "If someone thinks that Love and Peace is a cliche that must be left behind in the sixties, that's his problem. Love and Peace are eternal."
~John Lennon.
When trying to decide what to do for the project… It just felt like love and peace would be a good thing to share. Why not?! Right?!
"My" Journal Cover
So I did.
To make the picture I just took a black marker and drew random squiggly lines all over… Making sure they were all closed at some point to form fun shapes.
Then I colored them. With crayons. It was SO FUN!
When was the last time you just colored? It's actually crazy relaxing!!
You should try it!
Then I found that AWESOME John Lennon quote to accompany my picture.
And shared it on the next page.
Thanks for the opportunity to share Lindsey!!
I think she's going to send them out again and again, so if you'd like to participate, contact Lindsey at Scenic Glory!
Have a LOVE and PEACE filled day friends!!!