A WEEK of TRULY LOVELY GIVEAWAYS!!!
We are celebrating reaching 200+ followers, here at Truly Lovely with a full SEVEN days of giveaways from some of our lovely sponsors and bloggie besties!!
Watch for a new giveway, with new ways to win, everyday starting today and going on until April 12!!
From there we'll have a WEEK of WINNERS to announce, ending on April 19th! 🙂
So…. Let's get started!!!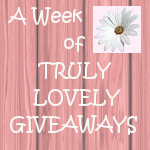 Truly Lovely Week of Giveaways
Maggie Louise Designs!!

Miss Maggie is giving away a BEAUTIFUL Hand Knit Bag!!!
I'm SUPER jealous of whoever wins this LOVELY!!!
It was hand knit by Miss Maggie herself, of 55% Bamboo and 45% Wool yarn! It's lined with 100% cotton fabric in a super cute polka dot pattern.
It has oval wood handles, two small pockets, and a magnet closure.
This little lovely could be YOURS!!!
To enter to win:
Mandatory – Must be a public follower of Truly Lovely
And leave a comment below for each entry completed! Good Luck to All!
1 Entry – Follow http://www.twitter.com/kassarie on twitter
Up to 3 Entries – Blog, facebook or tweet this giveaway and be sure to share the link!
*Optional tweet:
"I just entered the week of Truly Lovely giveaways from @kassarie!! #giveaways"
ONE BEAUTIFUL BAG!!!
SEVEN CHANCES TO WIN!!!!
Thank you Miss Maggie for contributing to our 200+ Celebration!!
Winner will be drawn via Random.org on April 13th!!