We have a returning guest poster today for this week's Bloggie Bestie..
The delightful Crystal of Homemaker in Heels!
Gotta love her blog name right!?! 🙂
Hope everyone is having a FABULOUS week!!!
I'm busy getting wedding ready!
9 days til the wedding!!!
You can also call my Crysta… 🙂 I am absolutely tickled pink to be this week's Bloggie Bestie!:) Sweet Miss Kassi is posting over at Homemaker in Heels today if you want to stop by and show her some love! :). She has got to be one of the sweetest, if not THE sweetest blogger I know! I'm not sure if you remember, but I was the Bloggie Bestie here a little while back. At Homemaker in Heels, I share the many ways I am turning my house into a home, one crafty decorating project at a time (while wearing the cutest shoes possible;)). I share love finding ways to create home decor without spending a whole lot of money. My favorite projects are those that I can create for free!
Today I am going to show you how to make your own table topiary tree.
Materials you will need:
First, crumble your newspaper in to a ball the size you would like for the top of your topiary to be. Next, secure the newspaper into the ball. I used wide packaging tape to do this. I left a small hole on one side for my stick.
Now, just glue your Spanish Moss onto the ball until it is completely covered. Use your glue gun to secure the ball onto the stick/ dowel to create your little tree.
To secure your tree into the flowerpot, you can either use newspaper or foam. I used newspaper and just sort of stuffed it into the flowerpot and then glued some more moss to cover the newspaper.
Now I have a cute little topiary and it didn't cost me anything at all since I already had the moss from a previous project. I hope I have inspired you just a little. 🙂 Feel free to stop by Homemaker in Heels and say hello any time at all! I absolutely love meeting new people and making new friends! 🙂
I hope you all have a wonderful day!
THANK YOU CRYSTAL for the lovely tutorial! Isn't that topiary awesome!?!
And thanks for being this week's Bloggie Bestie on Truly Lovely!!
Crystal is the best!! Hope you'll go pay her a visit after you leave her some comment love here! 🙂
Have a lovely Thursday sweet friends!!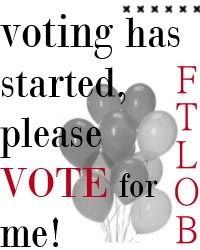 And please, if you haven't yet, vote for Truly Lovely for blog of the month on For The Love of Blogs! THANKS!