"The greatest thing a FATHER can do for his children, is to love their mother."
– Anjaneth Garcia Untalan
Dad and Kayli
"They say that from the instant he lays eyes on her, a father adores his daughter. Whoever she grows up to be, she is always to him that little girl in pigtails. She makes him feel like Christmas. In exchange, he makes a secret promise not to see the awkwardness of her teenage years, the mistakes she makes or the secrets she keeps."
– Unknown


And Happy Father's Day to
all the Dads out there from Truly Lovely!
Time to party!!!
Fancy This Friday Rules:
1) Must be YOUR OWN project (we've had a few sharing other people's stuff… That's awesome, but we wanna see what YOU did!)
2) Must be linked to that project's specific post within your blog,
3) Grab our party button so others can party too!
4) Share some linky love with the other participants, by visiting and commenting on their projects as well! We ALL love comments!!
(And it would be SUPER COOL of you to say your stopping by from the Truly Lovely or Fancy This Fridays link up!)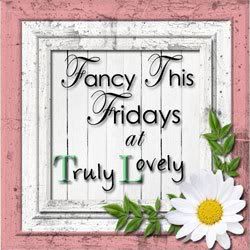 Thanks for linking lovelies!!!
When you're finished linking, would you please click this button to vote for us!
Moving on up the fence hopefully! 😉
Have a great weekend!!!