Happy Monday lovelies!!
I came back from the weekend with a VERY pleasant surprise!!!
Truly Lovely is one of the nominees for Blog of the Month over at
For The Love of Blogs!!! 🙂
YAY!!!
Now it's up to you all!!
Please go vote for Truly Lovely as Blog of the Month! 🙂
We would be forever grateful, of course!
You can click this button to take you to the voting poll.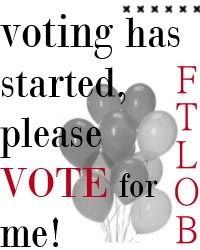 There won't be features this week from the Fancy This Fridays last week because I was pleased to co-host the Coffee Talk link up and chat at For the Love of Blogs.
There are 116 link ups so far and it's still open…
I'm telling you friends, if you're not a member, you should absolutely go check them out and join! 🙂
They do lots of fun link ups, chats and there's a HUGE summer giveaway bash coming all through July and August!
By the way… I will be giving away some Scentsy credit to my website one of the days during the Giveaway Bash!!! So watch for that! 😉
Hope you have the loveliest week!
P.S. You can also find Truly Lovely here:
Facebook * Twitter * Pinterest