What did you whip up this week lovelies?
Ginger of Ginger Snap crafts whipped up a SUPER easy but SUPER cute baby gift idea and shared it with us yesterday as the weekly Bloggie Bestie on Truly Lovely. Did you see it? So cute!
While she was doing that I shared a fun new website and ways to use it over on her blog, in case you missed it. Check that out here.
Speaking of Guest Posts, I'm posting over on Amanda Lynne's blog today!
Hope you'll pop over and check it out!
It's my take on being newly married!!!
Fancy This Friday Rules:
1) Must be YOUR OWN project (we've had a few sharing other people's stuff… That's awesome, but we wanna see what YOU did!)
2) Must be linked to that project's specific post within your blog,
3) Grab our party button so others can party too!
4) Share some linky love with the other participants, by visiting and commenting on their projects as well! We ALL love comments!!
(And it would be SUPER COOL of you to say your stopping by from the Truly Lovely or Fancy This Fridays link up!)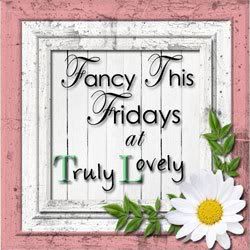 Hope you all had a lovely week!
Tonight we are headed to an evening jackpot team roping then on to the BIG annual rodeo event business in my hometown. Should be lots of fun!
Stay safe friends and enjoy your weekend!