Well hello there lovelies! Time for another week, eh?
I'm back from my hometown County Fair!
Seems like this year things were a little slower than last…
Me at my Scentsy Booth
I made a few good sales though and had a great time working my Scentsy booth with my mom, sister and niece!
Taylor and Mom
Kayli drawing our door prize winner
(Don't you love her new college haircut?!)
While I was gone, we had some lovely link ups over the weekend!!!
I have a few friends getting married in the coming months, so these CUTE engagement cups from Sky of Capital B caught my eye! Bet he is a lucky mister!!
I always love a new unique dessert!!
And finally, as summer seems to be winding down and everyone is getting ready for Fall, this lovely little hammock, shared by Anita at Cedar Hill Ranch, is calling my name!!
Thanks to all the lovely linkers this last week! Can't wait to see what you share this coming Friday!!!
For those that were featured, here's a featured button for your blogs!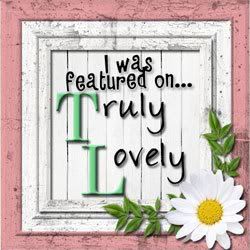 Have a lovely week sweet friends!!!