It's

FRIDAY

!!! WHOOT WHOOT! 😉
And I got my hair

DID

! Also WHOOT WHOOT.
Before After
Why I'm all

smiley faced

on the first one and sort of

smirky faced

on the second…
I don't know… Taking pictures of yourself is

awkward

, mmkay. 😉
And actually looking at these two… Maybe the before is better than the after…
Hmmm? Again, don't know. But it's something different!
Haven't done my hair in forever!
I wanted to grow it out and leave it natural for our wedding and I did.
So it was time to change it up.
Got a trim and some highlights in case you couldn't tell up there… bahaha.
I used to dye up and cut up and other such all the time.
But it was weird after not doing ANYTHING for so long.
I'm also noticing I have SUPER tired eyes in the second one… GEEZ!!!
No more

closeups

… heehee
Anywho… onto the party. What did you fancy pants up this week??
Fancy This Fridays Party Rules!!!
1) Must be YOUR OWN project (we've had a few sharing other people's stuff… That's awesome, but we wanna see what YOU did!)
2) Must be linked to that project's specific post within your blog,
3) Grab our party button so others can party too!
4) Share some linky love with the other participants, by visiting and commenting on their projects as well! We ALL love comments!!
(And it would be SUPER COOL of you to say your stopping by from the Truly Lovely or Fancy This Fridays link up!)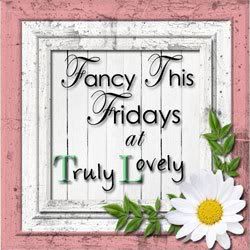 Thanks for linking lovelies! As always!!
Have a LOVELY weekend!!! 🙂