Hello dolls!
How was your weekend???
We did some rearranging and took a whole trailer load of stuff to Good Will this weekend!
So excited to be able to start fresh with a few things out of the way!
Let's jump right into this week's Fancy This Features from the Fancy This Fridays link up!!!
I'm going to try out XL pictures… Let me know what you think?
Do you like the larger pics better or not so much?
Speaking of starting fresh… I've been thinking about dressers lately.
You've gotta click over and see the before!
You know we LOVE S'mores here at Truly Lovely! Remember Kayli's S'mores in a Pan post??
Well check out these fun little treats!
Halloween will soon be upon us and what better way to use up your stash than Stash Busting Halloween Style like the girls over at Sew Stylish Boutique!!!
These

Halloween wreaths

they made are so fun! And they didn't go out and buy anything! Just used what they had at home! 🙂 Well done girls!
Thanks to all who linked up this last week!
Can't wait to see what you share next time as the Fall season starts to take over blog land! haha!
Here's a featured button for you lovelies mentioned up above! 🙂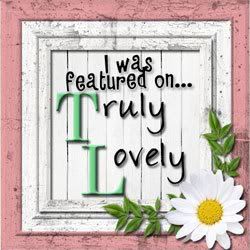 By the way, we have a A-Z of me link up planned for TOMORROW!!!
Get your posts ready and come back to link up! 🙂
Have a lovely evening friends!