It's the last week of September! Holy smokes another month almost gone!
And another week of Fancy This Fridays past!
We had an AMAZING 55 link ups this week ya'll!!!
The Halloween posts are out in full force, delish fall recipes are making their debut, and just a whole lot of fanciness happening all around! 🙂
Real quick we wanna say THANKS to everyone who links up and grabs a button!
It's always a treat to happen upon a lovely blog with the Fancy This Fridays button on their sidebar. 🙂
First up… In the spirit of Halloween coming up soon…
It's a unique Halloween decoration, it's a sentimental keepsake… It's perfect! 🙂
Yummy blueberry streusel!! I love blueberry muffins, so this looks right up my alley!!!
And the perfect breakfast for a Fall morning!!
She linked up a couple LOVELY furniture makeovers this week!
But this one was my fave!
Here's a Featured on Truly Lovely button for you dolls up above!
Also, there were a few features on Friday over on our Facebook page.
If you were featured there, feel free to grab a button as well! 🙂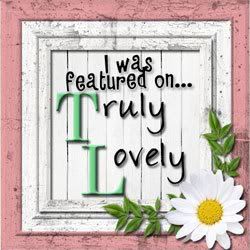 Can't wait to see what you all link up next week for the first Fancy This Fridays of October! 🙂
And did you know… My birthday is October 4th!
So look for something fun next week as well!
Have a great week lovelies!!!
P.S. We're looking for fun, new October sponsors!!!
Look here for the deets! 😉