You know…
Even though this was a short week it seems SO LONG… Weird.
Glad it's Friday!!! Whoot!
A few things before we get to the party…
Did you know I'm recapping my wedding right now over at my wedding blog, My Road to Mrs?!
Don't wanna miss that! 🙂 There's lots of lovely pictures… Like this one.
In other news… Please click here to vote for us.
Cause that would be super awesome of you!
We're WAY down on the list… But every vote helps! 😉
(If you just click the button, that counts as your vote. You don't have to look for us or anything like that…)
Also, my Pumpkin Bread was featured at Creative Estates yesterday if you wanna check that out!
Next on my list… hmm… Oh yeah! Have you liked our Facebook page yet?
It's growing everyday! 180 and counting!!
Lots of fun stuff happens there… Like FEATURES from Fancy This Fridays!
If you've been featured on our Facebook page, be sure to grab a Featured Button from our new Bloggie Bling page!
While your hanging around the blog…
don't forget to say hey to this week's Bloggie Bestie!!
Ok! Time to show off! We wanna see what you've been up to this week!
Fancy This Fridays Party Rules!!!
1) Must be YOUR OWN
project
(Everyone's been doing great at this one! Thanks all!)
2) Must be linked to that project's specific post within your blog,
3) Grab our party button so others can party too!
(Put it on your sidebar, on your post, on a linky party page… anywhere visible to readers on your blog… that would be lovely of you!)
4) Share some linky love with the other participants, by visiting and commenting on their projects as well! We ALL love comments!!
(And it would be SUPER COOL of you to say your stopping by from the Truly Lovely or Fancy This Fridays link up!)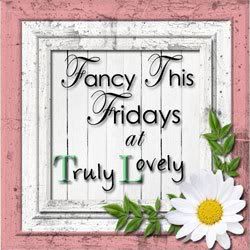 Thank you, as always, for linking up with us here at Truly Lovely!
Enjoy your weekend!!