Hey dolls! Happy Friday!!!
It's our first Bloggie Bestie giveaway, so be sure to check out the post to learn how to get entered!
It's for Truly Lovely readers especially!
So that means big chances to win!!!
Next week, I have a fun link up planned!
Have you seen the A-Z posts going around on blog land??
Well get yours ready to share on Truly Lovely!!! 🙂
Ok, time to link up! What lovelies have you fancied up this week??
We wanna see!!!
Fancy This Fridays Party Rules!!!
1) Must be YOUR OWN
project
(Everyone's been doing great at this one! Thanks all!)
2) Must be linked to that project's specific post within your blog,
3) Grab our party button so others can party too!
(Put it on your sidebar, on your post, on a linky party page… anywhere visible to readers on your blog… that would be lovely of you!)
4) Share some linky love with the other participants, by visiting and commenting on their projects as well! We ALL love comments!!
(And it would be SUPER COOL of you to say your stopping by from the Truly Lovely or Fancy This Fridays link up!)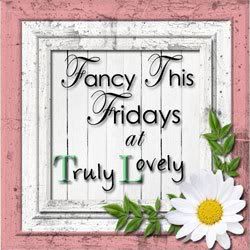 Thanks in advance for linking!!!
We love seeing all the new fancies every week!!
Remember, the link up closes at midnight on Sunday night, then our faves are featured on Monday! 🙂 Be sure to check back to see if you were featured on Truly Lovely! 🙂
Have a great weekend!!!