Well

Happy AUTUMN

lovelies!!!
In the spirit of a new season… We have an announcement…
Did you notice anything new?
Go ahead… Look around… We'll wait.
Hmm… Still looking? Or did you spot it???
That's right all! We have our very

OWN

domain name!!!
Now instead of having the

LONGEST

domain name in the world….
That's an exaggeration, but it's pretty long…
It's now short and sweet and easy to remember!
HUGE thank you to the ladies over at

Crafterminds

for sharing the how to.
It's really SUPER easy! Much easier than I had ever thought it would be!!!
Oh… and FYI… It's only $10!!!!! Yep, do it.
Ok! Now for the first Fancy This Fridays of Autumn!
What have you been working on??? We wanna see!!
Fancy This Fridays Party Rules!!!
1) Must be YOUR OWN project
(Everyone's been doing great at this one! Thanks all!)
2) Must be linked to that project's specific post within your blog,
3) Grab our party button so others can party too!
(Put it on your sidebar, on your post, on a linky party page… anywhere visible to readers on your blog… that would be lovely of you!)
4) Share some linky love with the other participants, by visiting and commenting on their projects as well!
We ALL love comments!!
(And it would be SUPER COOL of you to say your stopping by from the
Truly Lovely or Fancy This Fridays link up!)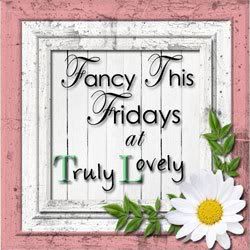 OH!! And before you rush off to your next Friday linky party…
Don't forget to ENTER the BRACELET GIVEAWAY from
Mommas Like Me! 🙂
Have a lovely first weekend of Fall!!!