Happy Friday sweet friends!!!
It's the

LAST day of September

! Where did it go ya'll?!?
But guess what that means… I've got some fun things to share with you sweets today!!!
First. Tomorrow is OCTOBER.
You might've gathered that from the above mention… heehee!
That means MY post as part of this….
Goes up TOMORROW!!! Hope you'll stop by J&Ms Eye Candy to check it out!
I'm sharing another

fun pumpkin treat

!!!
And there may or may not be a giveaway involved…. Just sayin'… 😉
*******
October also means… Someone is celebrating a

BIRTHDAY

!!!
Yep, yep, that'd be muah!
So…
Be sure to stop by on

TUESDAY October 4th

for a FUN birthday surprise!!! 😉
*******
Next, a new month means

NEW sponsors

!
Since I got my Top Commentators widget to work this week, thanks to
Mandy at Sugar Bee Crafts,
I decided it would be fun to award my #1 commentator!
(It's over there, on the left, very bottom of the sidebar!)
SO,

Ami of AliLilly

will get a

FREE sponsor spot for October

!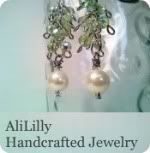 We do have a few spots open still, so if you're interested, check out the details here!
*******
Today I'm guest posting here:
If you haven't checked them out yet, you definitely should!
They're a fun group of crafty ladies!!! 🙂
*******
AND one last thing before we get to Fancy This Fridays #44….
The

WINNER

of the LOVELY Bracelet Giveaway
from sweet Lacee of Mommas Like Me is….
CONGRATS KATIE!!!!
Just so happens that Katie is also THIS week's Bloggie Bestie!!
Cool, right?!?! So be sure to check out her fun post here.


You'll be getting an email shortly!
If you don't respond within in 48 hours, we'll pick a new winner FYI.


Thanks to all who entered!
And welcome to all the lovelies following now from the giveaway!
It was a HUGE success!!!


*******


Now… Time to PARTY!!!


Fancy This Fridays Party Rules!!!
1) Must be YOUR OWN project
(Everyone's been doing great at this one! Thanks all!)
2) Must be linked to that project's specific post within your blog,
3) Grab our party button so others can party too!
(Put it on your sidebar, on your post, on a linky party page… anywhere visible to readers on your blog… that would be lovely of you!)
4) Share some linky love with the other participants, by visiting and commenting on their projects as well! We ALL love comments!!
(And it would be SUPER COOL of you to say your stopping by from the Truly Lovely or Fancy This Fridays link up!)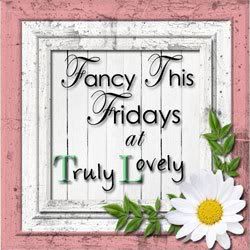 Thanks to all for linking with us here at Truly Lovely!
AND Happy ALMOST October! 😉