HAPPY OCTOBER!!!
I kinda love this month… For several reasons…
But mostly because it's my birthday month!
FYI… You should be sure to pop by tomorrow for a BIRTHDAY surprise. 😉
There may or may not be a giveaway involved… hint hint.
By the way, I'm hosting a giveaway over here this week!
Be sure to stop by J&Ms Eye Candy to get entered to win!
And a giveaway here on Wednesday.
What can I say… My birthday puts me in a giving mood… heehee.
********
We had 47 fabulous Fancy This Fridays link ups this last week!!
First, I am LOVING this lace t-shirt linked up by Steph at Southern Fairy Designs!
I would SO wear that on a daily basis!
She made her THREE adorable Fall skirts!!
And finally, check out this GORGEOUS craft room from Jenni at Kissed by a Frog.
She has been working so hard on it for weeks!!
You've gotta pop over and check out the storage on her shelves! LOVELY!
Here's a featured on Truly Lovely button for you lovelies to share on your blogs!
Thanks to all who linked up this and every week here at Fancy This Fridays!!!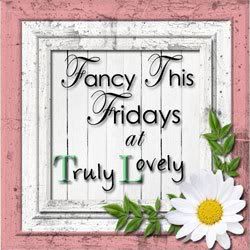 Like I said… Be sure to come back tomorrow… *wink wink*
Have a lovely week dolls!