Hello lovelies! Happy Monday!!
You know what today is, right?!?!
AND it's DOUBLE Fancy This Fridays Feature day!!!
Here are our favorites from the last two weeks of Fancy This link ups!!!
She talks about finding balance between being a mommy and wife, and her blog and shop.
Definitely an issue all mommies seem to be dealing with today!
Ok, how fun and adorable is this outdoor chalkboard and desk area shared by Ginger of Ginger Snap Crafts!! You could do this for their playroom or bedroom too of course! It doesn't have to be outside…
Since it's winter and all… haha.
Speaking of fun and adorable, I LOVE these CUTE handmade Christmas ornaments that Veronica of Life in the Thrifty Lane made for her kiddos! LOVE the little horse! SO cute!!!
Ashley at A Blonde's DIY Life shared a few ideas for DIYing your Christmas decorations this year!
Aren't her glittered and feathered 'trees' pretty!?!
There's still time to get some ideas on cooking your Thanksgiving turkey… Our resident turkey farmer, Carlee of Ladybird Ln. shares her tips for cooking the perfect turkey this and every year!
I love these little tissue paper trees made by Ami of AliLilly! You've gotta pop over and see what she used for her 'cones'! WAY more economical than the foam cones you can buy!
She had me at NO-SEW! 🙂
When the holidays get hectic, sometimes you've just gotta give up the sewing machine in exchange for the glue gun! Randee of Randee's Organized Chaos shared her pretty NO-SEW table runner!!
Staci of Just Sew Sassy used her Pinterest inspiration to create a lovely Christmas display in her windows with hanging Christmas ornaments! Definitely adding this to my Christmas decor this year!!!
Tired of the same ol' pies during the holidays??? Try this fun and unique Southern Brownie Pie shared by Jerri of Simply Sweet Home! Sure to be a crowd-pleaser!!!
Here's a Featured on Truly Lovely button just for you lovelies!!!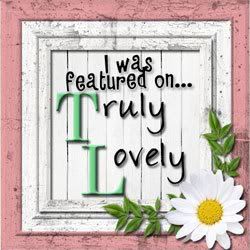 Thanks so much to everyone who linked up and celebrated 50 weeks of Fancy This Fridays with us!!
CONGRATS LADIES!!!! 🙂
*******
AND the winner of the Sew Obsessed Fabric Giveaway is…
Who is: Amanda of doTerra Essential Oils!!!


CONGRATS AMANDA!
Email on the way! Please respond within 48 hours or another winner will be drawn! 🙂


Thanks to everyone who entered and shared the Sew Obsessed giveaway!


FYI: WE have ANOTHER AWESOME GIVEAWAY coming your way TOMORROW!!!
Hope to see you back here then! 🙂