Hello dolls!!! 🙂 Another week closer to Thanksgiving, eh?
That also means another week of Fancy This Fridays down!
Next week is our 50th anniversary here at Fancy This Fridays. Week wise of course. 🙂
We might have something fun planned… We'll see. 😉
Until then, here are the features from this last Friday.
All great MAKE IT YOURSELF Christmas gift ideas…
Just sayin'… 🙂
Maybe that will help me get organized with my grocery list and what not!
Mary shares her recipe and the cute little packaging for her gift over at Sweetwater Style.
Alright! Another week gone!
Here's a featured on Truly Lovely button for you ladies!
Hope you'll grab one for your blog! 🙂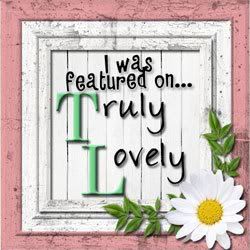 Thanks to everyone who linked up! Can't wait to see what you all share this Friday!!
By the way… looking for more Christmas gift ideas?
You really, really should! 🙂