Hello lovelies! 🙂 Happy Cyber Monday!
In the spirit of the shopping season, I have a request real quick like…
I won a $20 credit for anything I want on Etsy, shipping included.
In the comments section please share YOUR favorite Etsy shop so I can check it out before making my decision! 🙂
Even with it being a holiday weekend we still managed to score 25 links!
They are really yummy… just sayin'… 😉 Ami seemed to think so too!!
Now that's my kind of Christmas decor… It glitters AND it jingles!
And last, but certainly not least…
Olga of Stardust Decor & Style shared her bedroom makeover!
Check out the before! Much more glamorous and cozy now!
Here's a featured on Truly Lovely button for you three lovely ladies!!! 😉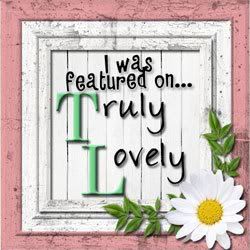 Thanks to everyone who took time from their busy holiday weekend to link up to Fancy This Fridays! We loved seeing the fun links this week!!!
By the way, the Shabby Apple Dress Giveaway is still open!
AND we're accepting sponsors for December this week! 🙂
Have a lovely last few days of November!!!