Here we are… the last Monday before Christmas!
The last Monday before Hanukkah!
It's now or never… Do you have all of your shopping and decorating finished??
I'll be honest… I have a few gifts left to get. But all things considered… think I'm on track! 🙂
So while your browsing online for those last few gifts, check out these features from the Fancy This Fridays link up!
These are a few of our favorites!
You'll have to click over to see the cute embellishments Megan of These are Some Good Times added to this store bought sign! She really snazzed it up!
Love how it looks with all of her other decor!!!
Here's a featured on Truly Lovely button for you lovelies!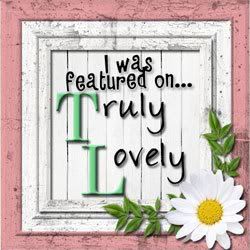 Thanks to all who linked up this last week!
Now for the big 12 Days of Christmas Giveaways Galore winner!!!
And the winner is…
CONGRATS Bethani!!!
An email is on the way! Please respond within 48 hours or a new winner will be drawn!


Enjoy your week before Christmas lovelies!!! 🙂