Today's link up is down at the bottom, but here's a fun post to entertain you until then…
I hope… 😉


I am BLANK because…..
I've seen several of these posts going around…
I enjoyed reading theirs, so here's mine… 😉
Hubs and I at a Clay Walker/Eli Young Band Concert
I'm weird because…
I love my morning coffee. Even in the 100 degree summer.
I have dreams about my blogging friends. You know, like you would your everyday friends… going to Home Depot, visiting for vacation. All about people I've never met.
I really like to play Farmville. Of all things, right?! I try really hard to complete all the little farm tasks. 🙂
I don't exercise. At all. It's a BAD, BAD habit I need to break.
I love dip. Ranch dressing, cheese dip, almost everything I eat needs to have dip!
I'm a bad friend because….
I never sincerely commit to plans until I see what my husband will be doing.
I listen to your problem then try to fix it. Sometimes not what you want to hear.
I hold grudges for a really long time.
I'm a good friend because…
I almost always text or call back.
I listen to your problem then try to fix it. Sometimes not what you want to hear.
I'm good at communicating. i.e. I send letters and cards for no reason.
I put a lot of thought and time into presents. And you WILL get a present. 😉
I'm sad because…
I have to get up and go to work everyday.
I don't get to see my parents/family often enough.
I'm seriously out of shape. (see weird note above)
I'm happy because…
I have a job to get up and go to everyday.
We have a home of our own that I love.
I'm excited because…
It's the holiday season!!
Truly Lovely is doing well and growing!
Did you do this post too??? Share yours in the comments and I'll go check it out!!!
Now, onto the party!
Fancy This Fridays Party Rules!!!
1. Please link directly to the project post on your blog.
Not the blog itself.
2. Please link only your OWN posts.
We prefer to see what YOU have been up to… not someone random.
3. Please grab a button and display it somewhere on your blog.
On your sidebar, on your posts, on your linky party page.
We don't mind…
4. We would LOVE if you would comment on at least one other link.
Just pop over and say Hello, coming by from Truly Lovely.
That would rock. 🙂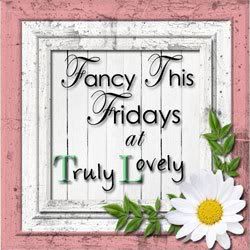 Have a lovely weekend!!!