This has been a fun week!
Kayli has been here since Monday on her Christmas vacation!
We've been doing some crafting, going out to lunch, took a visit to the local antique store (courtesy of the hubs) and all sorts of entertaining things.
Kayli's visit to my office on Thursday
And yesterday… She surprised me with a CLEAN kitchen while I was at work!!!
How's that for a pre-Christmas present! Whoot!
Before we get to the party today is the last day to enter these GIVEAWAYS!!!
You can click the button to enter ours and see the linky of all the other participating blogs!
There's TONS of fun stuff up for grabs! 🙂
Fancy This Fridays Party Rules!!!
1. Please link directly to the project post on your blog.
Not the blog itself.
2. Please link only your OWN posts.
We prefer to see what YOU have been up to… not someone random.
3. Please grab a button and display it somewhere on your blog.
On your sidebar, on your posts, on your linky party page.
We don't mind…
4. We would LOVE if you would comment on at least one other link.
Just pop over and say Hello, coming by from Truly Lovely.
That would rock. 🙂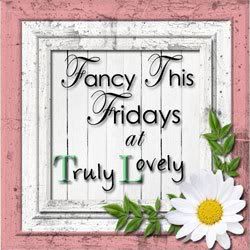 Enjoy your weekend!!!
By the way… our winner of the 12 Days Giveaway will be announced on Monday.
You have until tonight to get entered! 🙂
AND