Well hello there
2012
! Where'd you come from?!?!
Let's celebrate this second day of the NEW Year with some fabulous features from the Fancy This Fridays link up, eh?!
What better way to start the new year, then with a bright, freshly printed calendar!
You could take your neighbors a Happy 2012 treat like these mini bread loaves linked up from Veronica at Life in the Thrifty Lane. She even shares her lessons learned so you don't have to learn the hard way!
Now that things have settled down a little from Christmas, Hanukkah, etc. the kids aren't being watched by Santa so closely and what not… They might be bickering over the new loot they scored over the last month… Well, Chantelle at Mommy X 3 = Insanity started labeling their toys with vinyl. Problem solved.
Here's a featured on Truly Lovely button for you dolls!
Hope you'll share it on your blogs as the first feature of 2012!!!
Here's to many, many more!!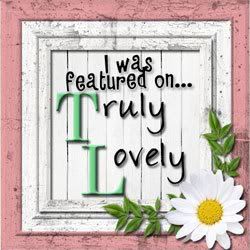 I have the day off and I'm planning to spend it with the hubs welcoming in 2012 at home on our cozy couch!
Hope you're having just as much fun where you are!!!