Happy Friday dolls!
Let's get the
FIRST party of 2012
started, eh!?!
I know I said yesterday that I was taking my time with my resolutions for the New Year, but last night I thought about it and settled on a few to share here with you all.
I combed my reader for inspiration and ideas from you lovelies and this is what I've come up with!
1. Working out at least three times a week.
To get started with this one I am going to begin the Couch to 5K plan on Monday.
Thanks to Melodee of Polkadot Notebook for sharing the plan in an easy to print image!!
Wish me luck on this one peeps. I'll be honest. I don't work out. At all.
I was a basketball/volleyball playing, track running fool in high school.
I even played inter-murals in college.
Now? Nothing. Time to do something!
2. Get the inside of my house painted and decorated!
I know this is an ever evolving process.
But almost every room needs a fresh coat of paint.
Because of it I haven't completely decorated yet still… oops. 😉
3. Sew a quilt.
I'm finally getting the hang of my sewing machine and starting to sew more difficult projects.
My sewing goal for this year is a quilt of some kind.
What resolutions or goals are you setting for the New Year??
Now onto the Fancy This Fridays link up!
Fancy This Fridays Party Rules!!!


1. Please link directly to the
project post
on your blog.
Not the blog itself.
2. Please link only your
OWN posts
.
We prefer to see what YOU have been up to… not someone random.
3. Please grab a button and display it
somewhere on your blog
.
On your sidebar, on your posts, on your linky party page.
We aren't picky!
4. We would LOVE if you would
comment on at least one other link
.
Just pop over and say "Hello, coming by from Truly Lovely", or something more clever… You know. 😉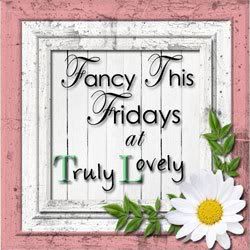 Have a lovely Friday!!!
Oh! And go enter this AMAZING HUGE 2012 GIVEAWAY!