It's FINALLY Friday!!! Whoot whoot! 😉
How was YOUR week?
Mine has been crazy busy for some reason.
Nothing unusual just extra of the usual seems like.
Hubs has been hard at work welding on our horse pens again.
We finally have all of the materials to finish them (except for the tin for the roof), so hopefully they'll be done soon. Have you ever had those SUPER huge projects that sucked all the time and resources so that you couldn't do anything else??
Needless to say I'm excited for him to get those pens finished!
Our horses will have a nice new home and we'll be able to move on to other projects around our house.
If you missed that, you can still sign up until Monday!
Really excited to see how this first
blog critique party
turns out!
Did you notice that the members number over there on the top left has magically and excitingly rolled
over to 500+
!!!! We are at a loss for words!?!?
Ok, not really, we always have something to talk about….
Like how AWESOME and AMAZING and FABULOUS it is that 500 lovelies have chosen to join our space in the blog world. YOU ROCK!!! For reals.
And since you rock so much we are working on a
500 peeps celebration
coming your way soon!!! 😉
***
FYI: TODAY is the last day to enter the Cheers, Bethani giveaway!!! The winner will be announced on Monday, so get those entries in if you haven't yet!
We had a FUN features post from the lovely Kayli on Monday!
If you missed it, you can check that out here. She's decided to take a more active roll in the blog for 2012 so be on the lookout for more snippets of Kayli fun!!!
So… What have you been fancying up this week???
Fancy This Fridays Party Rules!!!
1. Please link directly to the project post on your blog.
Not the blog itself.
2. Please link only your OWN posts.
We prefer to see what YOU have been up to… not someone random.
3. Please grab a button and display it
somewhere on your blog.
On your sidebar, on your posts, on your linky party page.
We aren't picky!
4. We would LOVE if you would comment on at least one other link.
Just pop over and say "Hello, coming by from Truly Lovely", or something more clever… You know. 😉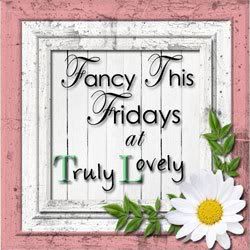 Thanks for linking lovelies!!!
Have a lovely weekend!