Seems like whenever a new year rolls around everyone jumps right into organizing, cleaning, resolutions, goals and the lot. Well… I've jumped on the bandwagon.
I finally tackled one of those pesky little things that keeps getting moved down my to do list, you know the kind that they really ought to be done, but there's always something else that needs done first…
Adding numbers to our mailbox!
We've lived in our new home since May, but I barely got around to fixing up the mailbox in early December.
Maybe it was the UPS man saying, "There's no numbers on your mailbox, wasn't sure where to go."
We can't have THAT now can we!!! I don't know about you guys, but hearing UPS pull into the drive ALWAYS makes me happy! 😉
It was the New Years push that did it too…
Felt like I needed to mark something off that list BEFORE 2012. So I did!
I purchased some of the Premium Outdoor Vinyl from Silhouette America over their Thanksgiving sale. Then
cut our house number and last name into the vinyl and used transfer paper to get it cleanly onto the mailbox.
Yeah… we live on a dirt road. Awesome, right?! Ugh…
For the most part I don't mind I guess, except EVERYTHING is ALWAYS dusty!!!
Both sides are the same. Nice bright white house numbers!
It's been over a month and seems to be holding up nicely.
And now the UPS man can easily find my home!!!
Whew… I was worried there for a minute. 😉
By the way… Did you know you can find Truly Lovely here…
We're participating in this fun time: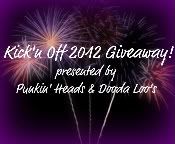 We're giving away a LARGE ad space for February! There are TONS of awesome prizes…
Trust me… You'll want to go enter!!! 😉