Looking for a fun and easy project you can do this weekend?
Something the kiddos could help with maybe??
You can purchase these
fleece throw kits
at pretty much any craft store or discount store like Wal-Mart.
My mom gave me this Precious Moments wedding throw kit for Christmas.
I have always loved and collected Precious Moments items and being that the hubs and I were married in 2011 my mom chose a truly sweet and sentimental gift!
Plus it was also a craft I could do, so a two for one!
(The zebra print rotary cutter was also a Christmas gift from Kayli!)
My little dog, Pandy, and I 😉 sat down in the living room floor one evening and cut short strips using the rotary cutter and my self healing cutting mat into the two pieces of fleece fabric.
Then you simply tie the two pieces together. Directions are included in the kit.
The kiddos will love being able to say they helped mom make a blanket! 😉
So! What have you been up to lately? We wanna see!
Fancy This Fridays Party Rules!!!
1. Please link directly to the project post on your blog.
2. Please link only your OWN posts.
We prefer to see what YOU have been up to… not someone random.
3. Please grab a button and display it
somewhere on your blog.
On your sidebar, on your posts, on your linky party page.
We aren't picky!
4. We would LOVE if you would comment on at least one other link.
Just pop over and say "Hello, coming by from Truly Lovely", or something more clever… You know. 😉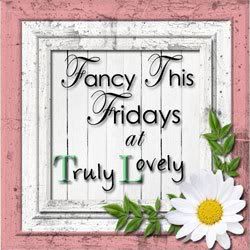 Thanks for linking lovelies!!! Have a fabulous weekend!!!