Remember when I was in a tile coaster making faze?
Well, I made some more for a gift for my basset hound loving aunt and uncle…
They were way too CUTE not to share…
What do you think?? 🙂 The coffee cup shape was free within my Silhouette SD software, I just added their names… and the cute howling basset hound was purchased from the Silhouette online store.
And just to up the cute factor… Meet the basset hounds… Ellie and Jenny. 🙂
They're not spoiled at all… *wink, wink*.
By the way… About that winner… The winner of the Day 3 500+ Followers Giveaway Celebration has been chosen… You can see if it's you here!!!
An email will be sent shortly to the winner…
If we don't get a response within 48 hours a new winner will be chosen.
So… what have YOU been up to lately??
Fancy This Fridays Party Rules!!!
1. Please link directly to the project post on your blog.
2. Please link only your OWN posts.
We prefer to see what YOU have been up to… not someone random.
3. Please grab a button and display it
somewhere on your blog.
On your sidebar, on your posts, on your linky party page.
We aren't picky!
4. We would LOVE if you would comment on at least one other link.
Just pop over and say "Hello, coming by from Truly Lovely", or something more clever… You know. 😉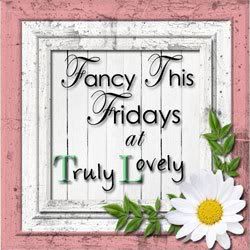 Thanks for linking lovelies! Have a fabulous weekend!