Today we'd like to wish a VERY HAPPY Birthday to this pretty little miss…
My niece, Corryn is 3 years old today!!!
She is an absolute sweetie pie and deserves the best birthday for sure! 😉
So, what did you fancy up this last week???
Share your pretties below! 😉
Fancy This Fridays Party Rules!!!
1. Please link directly to the project post on your blog.
2. Please link only your OWN posts.
We prefer to see what YOU have been up to… not someone random.
3. Please grab a button and display it
somewhere on your blog.
On your sidebar, on your posts, on your linky party page.
We aren't picky!
4. We would LOVE if you would comment on at least one other link.
Just pop over and say "Hello, coming by from Truly Lovely", or something more clever… You know. 😉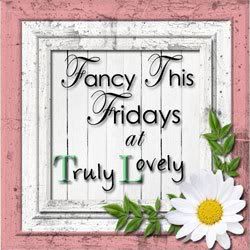 Have the best weekend lovelies!!!