Hello there friends!!!
So Miss Kayli is off enjoying her Spring Break… And as such is taking a break from the computer! Can you blame her… she's still in her first year of college… I got tired of the computer when I was in college too! haha.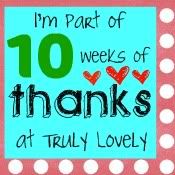 SO, I'm going to use her break to catch up on MY Ten Weeks of Thanks! She'll be back next week with her week 7… which will give YOU plenty of time to get YOUR post(s) ready if you'd like to link up with us. 🙂 Week 7's topic is Places, so next Wednesday, if you want to share what PLACES, anywhere in the world, that YOU'RE thankful for… we'd love to have you!
Until then, here's my week 4 – People who have passed on that I am thankful for… And as always, this is only a select few… The list of people I am thankful for could go on and on… You'll notice my list is almost the same as Kayli's. Over the last two, almost three now years we lost three people very close to us. So it's them that I'll be sharing today.
Granny. One of my most favorite people in the entire world! I remember once when I was just a tyke, and it only happened that ONE time… I was being naughty and got a spat on the bum from my Granny. I'm not sure who was more shocked, me, her or the people who saw it happen… She and I were tight. She never really got mad at me.
I was born just over a year after she lost my grandpa (who Kayli talked about in her Week 4 post). My mom always said I came at a time when she needed someone to love more than anything. And she loved me like crazy. And I her. When I graduated from college I moved home to care for her. She lived with my parents then. That is a time in my life that I will truly cherish forever.
My mother in law. Oh this lady… She could crack you up like none other! And she always had my back. Which was awesome being that I married her son… She would say, "If you guys ever break up, we're keeping you." 🙂 She said that about all of her daughters in law. There's three of us and a daughter and every one of us has a house full of trinkets and treasures thanks to her. She loved to yard sale and would always bring everyone a little something home…. You know… like a set of couches. 😉
We lost her in a car accident in 2009. That was and still is the hardest thing I've ever had to go through in my entire life.
Grandpa S. My husband's grandfather. My mother in law's dad. We lost him just a year shy of my mother in law. A spunkier cowboy you have never seen! He made it as a team tier in the National Finals Rodeo several times. As far as I know his love of roping and riding is where my husband got his love from. We are lucky to have a few photos of them roping together. When I met him he was one of the first people to include me. The hubs and I dated for over five years before we got married. But being married didn't matter to him… I was already a part of his family.
**************
Tell us lovelies… WHO are YOU thankful for?
If you have sometime today or in the next few days, here are the linkups (and their topics) in Kayli's Ten Weeks of Thanks Series thus far. We would absolutely LOVE to hear what/who you are thankful for. 🙂 By the way, some of the links had closed… But I've re-opened all of them until April 1st if you'd like to join in anytime before then… 🙂
Week One – Physical Abilities
Week Two – Material Possessions
Week Three – People Alive Today
Week Four – People Who Have Passed On
Week Five – Things in Nature
Week Six –  What about TODAY are you thankful for?
And don't forget, next week's topic is PLACES.
Be thankful friends!