So… as promised earlier… We have a little something FUN for you today!
Who doesn't love getting a little something fun in the mail, all while making a new friend in the process!!!
So… we introduce to you…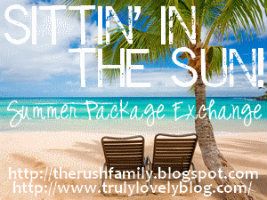 How it works: 
1. Sign up using the form below.
2. Breanna and I will match you with a partner.
3. Contact your partner and say hello! (This is not a secret exchange! It's a get to know a new friend exchange! So email, tweet, FB, etc… Make a new friend!!!)
4. Send your partner their Summer Goodies.
5. Link-up and share your Goodies with all of us!
(The spending limit for this exchange is between $15 and $20 before Shipping Costs.)
 Dates to Remember:
Monday, June 25th: Begin signing up!
Monday, July 9th: Deadline to sign up.
Week of July 9th: We'll contact you with your partner.
Friday, July 20th: Please have your packages mailed by this date!
Friday, August 3rd: Come back and link-up your Goodies!
Oh, and if you'd like to help us spread the word…grab the image above with the code we've provided and place it on your blog! If you'd like, feel free to share the link with your blog friends an invite for them to sign up!
The more the merrier!
If for some reason the form is not appearing below this text, click here to access the form directly through Google Docs! If you are able to fill out the form directly from this blog post, be sure to scroll the whole way to the bottom when you submit! There are a few questions that you'll need to scroll for 🙂
If you have any questions just let us know in the comments below!